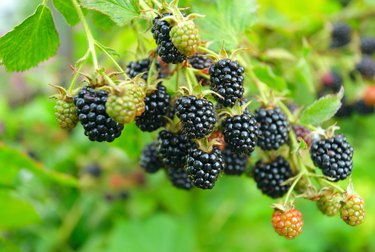 Blackberries grow naturally throughout much of the United States. In fact, they were a staple in Native American diets for thousands of years and were a favorite food of early European settlers. Today, you can find blackberries at most grocery stores, which makes it easy to enjoy their many health benefits. Blackberries, which contain only 62 calories and less than 1 gram of fat per cup, are excellent sources of a few key nutrients. As a result, they help keep your tissues healthy and combat chronic disease.
Digestive and Cardiovascular Benefits
The fiber in blackberries helps aid digestion and may help lower your cholesterol levels, which fights cardiovascular disease. One cup of blackberries provides almost 8 grams of fiber, which is 21 to 32 percent of the daily fiber recommendations for men and and women, respectively. The vitamin A in blackberries also supports your digestive tract by helping maintain healthy mucous membranes, such as the tissues that line the inside of your mouth. Each cup of raw blackberries provide 308 IU of vitamin A. This is 13 percent of the daily vitamin A intake for women and 10 percent for men.
Skeletal Benefits
The vitamins C and K and the trace mineral manganese in blackberries all benefit your bones. Vitamin K activates proteins needed to deposit new bone mineral tissue -- a process essential to maintaining strong bones. Each serving of blackberries contains 29 micrograms of vitamin K -- 24 and 32 percent of the recommended daily intakes for men and women, respectively. Vitamin C boosts the synthesis of collagen, a protein abundant in bone tissue. A cup of blackberries provides 30 milligrams of vitamin C, which is 40 percent of the recommended daily intake for women, and 33 percent for men. Manganese also promotes collagen production and activates enzymes essential for bone development. Each cup of berries provides roughly half the manganese requirements for women and 40 percent of the daily recommended intake for men.
Cancer-Fighting Benefits
Blackberries owe their rich purple hue to their anthocyanin content, and these anthocyanins also offer cancer-fighting benefits. They act as antioxidants -- chemicals that fight genetic mutations and cancer-causing tissue damage -- and may have the ability to slow cancer cell growth, according to research. A study published in "Phytotherapy Research" in 2012 reports that anthocyanins offer natural sun protection, protecting skin cells from damage caused by exposure to ultraviolet rays. Because the sun's UV rays play a role in skin cancer development, anthocyanins might provide some protection against skin cancer.
Consuming More Blackberries
Use blackberries to add sweetness and nutritional value to your meals. Start your day with a bowl of rolled oats topped with fresh blackberries and apple slices, or top your Greek yogurt with blackberries and hulled hemp seeds. Bake blackberries into whole-grain muffins or add them to leafy green salads. If you're craving a relatively nutritious desert, try heating blackberries with sliced peaches in the microwave, and top with rolled oats for healthful "blackberry crumble."