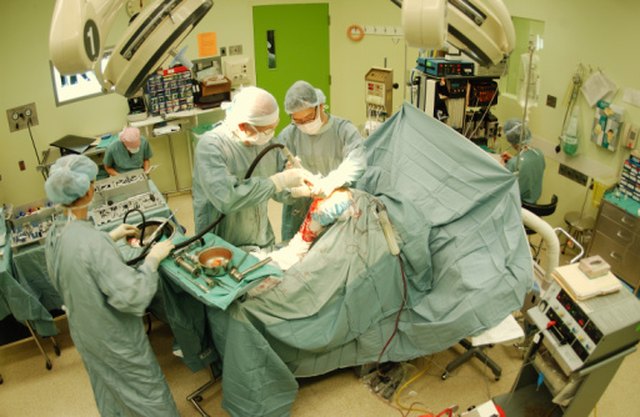 The knees are a pivotal and vitally important joint that carries your body through every activity of your life. With injury, the knee joint and the adjoining tissues, ligaments and cartilage can be compromised requiring surgery for repair. With surgery comes scar tissue, a very tough and inflexible fibrous material that can hinder the range of motion within your joint. Removing this scar tissue is essential to the healing process in order for the knee to move and function properly. Through various physical therapy motions, massage and other manipulation methods, the scar tissue in the knee can be broken down so your recovery includes a full range of motion.
Step 1
Avoid stretching the muscles around the surgical areas and the knee joint for the first 72 hours of healing, as stretching in this early phase of recovery will further damage the joint and adjoining tissue, recommends TheStretchingHandbook.com.
Step 2
Apply deep tissue sports massage to the area where scar tissue is an issue. Intense pressure applied to the scar tissue will help break it up and remove it from the body, recommends certified massage therapist and author Jonathan Kraft. Continue with massage until the scar tissue is gone.
Step 3
Utilize laser-assisted techniques through a certified professional so the scar tissue can be easily and safely removed. The new laser developments have made scar tissue reduction and elimination easier than before with other invasive methods.
Step 4
Drink ample amounts of water when undergoing treatment and physical therapy, as adequate hydration will ensure the extra tissue is quickly leaving the body.
Step 5
Increase range of motion within the joint with a physical therapist. Once you are healed from the surgery and the incision is fully healed, apply range of motion exercises that force the knee to break through the scar tissue and increase the range of motion in the joint. Wall slides, patella mobes and other exercises can be done to help break up the scar tissue around the knee after surgery.