Chemotherapy drugs kill cancer cells, which grow and divide at an abnormally fast rate, according to the National Multiple Sclerosis Society. These drugs often kill other healthy cells in the body--including those in the gastrointestinal tract, immune system and bloodstream--in addition to cancer cells. Because chemotherapy affects cells in the immune system, it also treats patients with autoimmune disorders.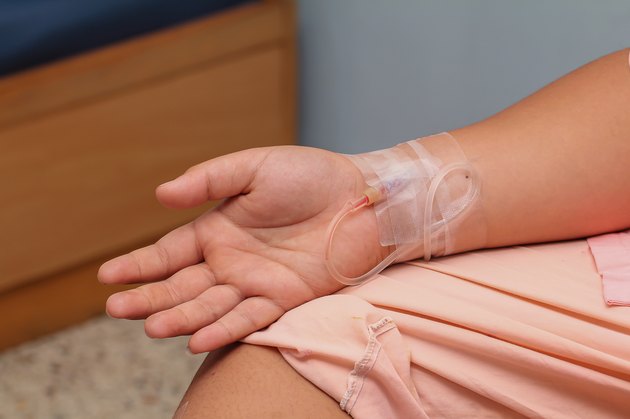 Rheumatoid Arthritis
The immune system uses white blood cells to clear the body of foreign substances such as viruses, bacteria, cancer cells and toxins. When the body's immune system becomes overactive, it begins to destroy healthy tissues as well as foreign substances, according to the National Library of Medicine's website MedlinePlus. In rheumatoid arthritis, an autoimmune disease, the body's overactive immune system damages the joints. Symptoms of joint damage range from moderate to severe and include pain, loss of mobility and swelling. Chemotherapy is used to treat patients with autoimmune diseases who have severe symptoms and who have failed to respond to initial, more conservative therapies. The chemotherapy drug methotrexate controls symptoms of rheumatoid arthritis. Rituxan is another type of chemotherapy drug called a monoclonal antibody. According to the Rituxan website, the drug treats lymphoma and leukemia, and targets only cancer cells. When used to treat rheumatoid arthritis, Rituxan slows joint damage and may provide symptom relief for up to six months.
Lupus
Lupus, an autoimmune disease, causes chronic inflammation and may affect any of the body systems, including the musculoskeletal, cardiovascular, central nervous system (brain), and renal system. Lupus also may affect the skin and blood cells. A diagnosis of lupus can be difficult to confirm because symptoms vary and may change over time. Initial treatment of lupus includes anti-inflammatory drugs and steroids. If symptoms persist, chemotherapy drugs are the next step in treatment and include cyclophosphamide and methotrexate. While these drugs help control symptoms of lupus, they may cause liver damage, changes in blood cell counts, infection, and sensitivity to the sun.
Multiple Sclerosis
In multiple sclerosis, an autoimmune disease, the white blood cells attack the protective coverings of the nervous system, slowing or stopping nerve impulses. This results in numbness, tingling, weakness and pain in various parts of the body, as well as fatigue, dizziness and vision loss. Chemotherapy drugs kill white blood cells, reducing the number of cells available to attack the nervous system, according to the National Multiple Sclerosis Society. Cyclophosphamide is used to treat multiple sclerosis, but not all patients experience symptom relief. Mitoxantrone treats patients with severe and disabling symptoms, bringing hope to some patients suffering with the disease.