A caffeine withdrawal headache usually begins within 18 hours of reducing or eliminating caffeine from the diet, according to the National Headache Foundation. That headache is the worst about three to six hours after it begins and is usually completely gone without seven days. Fortunately, there are ways to reduce the severity of caffeine headaches, as well as reduce the risk that you'll get one in the future.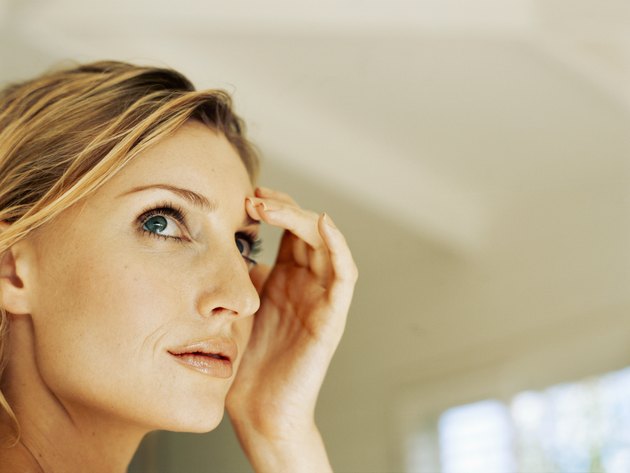 Biology of a Caffeine Headache
Caffeine is a neurological system stimulant, which can provide energy and increase alertness. It also reduces blood flow to the brain, which means that caffeine withdrawal increases blood flow, and that can result in headache, according to the American Headache Society. The exact amount of caffeine that's consumed daily, from food, beverages or medication, and the steepness of your reduction in consumption determine how severe and likely a withdrawal headache is.
Reduce Intake Gradually
A caffeine withdrawal headache from moderate amounts of caffeine is rare; those who regularly consume 500 milligrams or more of caffeine per day, which is equal to about 5 cups of coffee, are more likely to experience the painful condition, according to the Cleveland Clinic. For that reason, it's often necessary to gradually reduce how much caffeine you consume to help your body adjust to the changes. For example, reduce your coffee intake to 4 cups, wait a few days and then reduce it to 3 cups. Once you've reduced your intake, drink caffeine in moderation, which is usually about 200 milligrams per day. Moderate caffeine intake can help reduce the likelihood of a withdrawal headache should you choose to limit your intake on a given day for whatever the reason.
Be Consistent
If you choose to keep caffeine in your daily diet, be consistent in your consumption, recommends the Cleveland Clinic. Even a small variation can lead to a withdrawal headache. This means that you shouldn't consume 500 milligrams one day and only 200 milligrams the next day because this difference can lead to withdrawal symptoms on the days you're consuming less. Educate yourself about how much caffeine the things you eat and drink contain, and then create a daily diet that keeps your intake the same.
Sleep and Drink Water
Taking a nap or getting a good night's rest can help ease a caffeine withdrawal headache, according to the Caffeine Informer website. Staying well-hydrated can also help, so drink plenty of water. If you're purposely reducing your caffeine intake, talk to your doctor about over-the-counter pain relievers. The ones that contain small amounts of caffeine might help ease the transition to consuming less caffeine each day.