Laboratory blood tests can help doctors to diagnose problems in their patients. While there is no such thing as a "standard blood test," there are several common blood test panels that your doctor may recommend. These can be ordered as part of a routine checkup, or may be ordered if the patient complains of symptoms. Some medications can cause problems in the body that can be easily detected through blood testing. If you do not know why your doctor is recommending a particular blood test, be sure to ask. In many cases, blood tests rule out illnesses before having to resort to more invasive testing.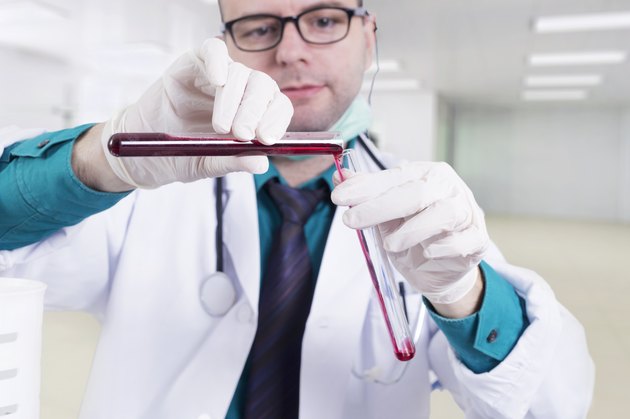 Complete Blood Count
Doctors often order a complete blood count, or CBC, as part of a routine or yearly exam. A CBC measures the amounts of red blood cells, white blood cells, platelets and iron in your blood. This test can detect anemia, inflammation, infections and bleeding disorders. A CBC can also help the doctor determine if medications that you are on need to be adjusted.
Blood Chemistry Tests
A doctor may order a basic metabolic panel, or a BMP. This is a series of tests that is run on the plasma of your blood. These tests measure how much glucose and calcium is in your blood, and whether you have the right amount of electrolytes and minerals in your blood. A BMP can detect diseases such as diabetes, cancer, bone disease, kidney disease and other disorders. Some tests require that you fast beforehand, and others don't. Ask your doctor if you are unsure.
Blood Enzyme Tests
Enzyme tests can show your doctor whether you have damage or disease in various organs of the body. A creatine kinase, or CK, test can help your doctor determine if you've had a heart attack. A troponin test is another test that can indicate a heart attack. Creatinine tests measure kidney function. Liver enzyme tests can help a doctor rule out or diagnose liver disease. These also help to determine whether a medication may need to be adjusted or eliminated if it is causing liver damage.