If you're a regular beer drinker and struggling to lose weight, removing your favorite beverage from your diet may help you lose some of those unwanted pounds. But like any type of weight loss, it all comes down to your total calorie intake and consuming fewer calories than your body needs, no matter where they come from. How much weight you lose depends on how much beer you drink and whether you also make other lifestyle changes.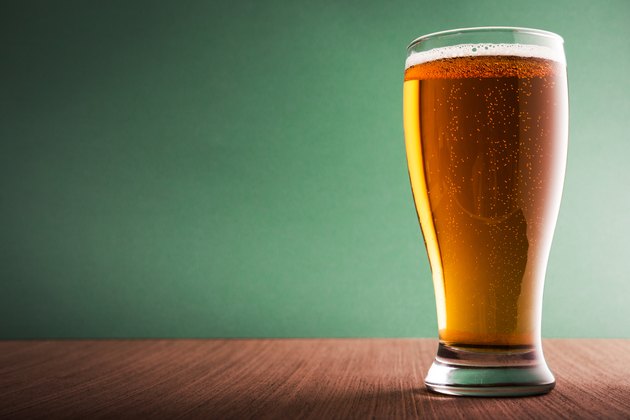 Beer Calories
With 7 calories per gram, alcohol is a more concentrated source of calories than carbs or protein, which each have 4 calories per gram. So beer, as a source of alcohol, is a concentrated source of calories that offers very little nutritional value. A 12-ounce serving of regular beer has 153 calories, while the same serving of light beer has 103 calories. Two-thirds to three-quarters of the calories come from alcohol.
Beer Calories and Weight Loss
No matter what strategy you use, to lose weight you need to create a caloric shortfall. This can be accomplished by eating or drinking fewer calories, burning more with activity or a combination of both. To lose 1 pound to 2 pounds a week, you need to create a 500 calorie to 1,000 calorie daily shortfall. Cutting out beer may be an easy way for you to achieve a negative calorie balance to lose the weight. If you drink two 12-ounce servings of regular beer a night, you'll save a little more than 300 calories a day, which translates into a 2.5-pound weight loss in a month.
Stop Drinking Beer to Lose Belly Weight
Heavy beer drinking is associated with obesity, according to a 2013 review study published in Nutrition Review. This review included almost 50 studies, both observational and experimental, and while results were mixed, overall, they concluded that drinking more than 16 ounces of beer a day may increase your risk of gaining weight. And not just any weight, but abdominal weight, which is associated with an increased risk of cardiovascular disease and type 2 diabetes.
Drinks to Lose Weight
If you replace your beer with beverages that contain calories, such as soda or juice, you may have a difficult time losing weight. Drink calorie-free beverages instead, such as water, unsweetened coffee or tea. Water is your best choice and may actually help promote weight loss. A 2010 study published in Obesity found that drinking 16 ounces of water before a meal helped people eat less and lose weight. If you like beverages with flavor, squeeze some lemon or lime into your glass of water or add a splash of cranberry juice.