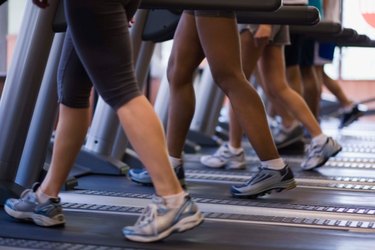 Pro-Form is a popular manufacturer of in-home fitness equipment, including ellipticals, bikes and treadmills. The CS line by Pro-Form has existed for several years. The latest model is the 980CS. The 740CS is an older model in the CS line of treadmills. As of September 2010, it is no longer available on the Pro-Form website, although you can find used models.
Resistance and Incline
The 740CS has a 2.5 horsepower motor that allows you to run at speeds up to 12 miles per hour. You can easily change the speed by pressing the up or down arrow of the speed keys on the console. The incline can also be adjusted on the console. Each time you press the up or down incline keys, the incline changes by 0.5 percent. It ranges from 0 to a 10 percent incline.
Space Saver Design
Like many of Pro-Form's treadmills, the 740CS has a Space Saver design, which makes it easy to store in just about any room. When you are not using your machine, simply lift the belt to a vertical position and lock it in place. You can then roll the unit on its wheels to a storage area if desired.
Console Features
The LED console provides various information about your workout, such as distance traveled, laps completed, time elapsed and estimated calories burned. Built-in pulse sensors are located on the handles; place your hands on the sensors to check your heart rate. The 740CS comes with six pre-programmed personal trainer workouts. The treadmill will automatically adjust the incline and speed settings for you as you progress through the workout. You can connect the 740CS to your CD player and view iFit workouts where a virtual personal trainer coaches you through a session. The iFit programs can also be downloaded to your treadmill by connecting it to your computer.