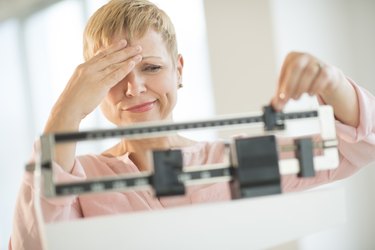 Zoloft, generically known as sertraline, belongs to a category of antidepressants known as Selective Serotonin Reuptake Inhibitors, or SSRIs. Doctors prescribe Zoloft for treatment of depressive disorders, anxiety and other mental health conditions. Like other SSRIs, Zoloft may cause weight changes in some people. Knowing that this complication could occur can help you make necessary lifestyle adjustments to prevent it or deal with it effectively if you experience either one.
Weight loss is a common side effect of Zoloft, affecting children and adolescents more frequently than adults, who need close monitoring when taking this drug. According to eMedTV, 7 percent of children taking Zoloft experienced weight loss of greater than 7 percent of their body weight. Around 2 percent of adolescents lost more than 7 percent. Most adults lose just a pound of two. If you lose large amounts of weight and don't need to lose it, you might have to stop taking the medication. Around 1 percent gain weight when taking Zoloft. It's unclear whether the medication itself or a combination of lifestyle changes, underlying conditions and other factors is to blame for weight gain in patients taking Zoloft.
Weight loss is often preceded by appetite loss, nausea upon eating, and disinterest in food preparation and consumption. Reduced caloric intake and occasionally an increase in physical activity because of reduced depressive symptoms are usually the primary causes of weight loss in patients taking Zoloft. Increased appetite, binge eating, food cravings and preoccupation with food are commonly associated with weight gain in people who take Zoloft. Poor dietary choices, such as eating foods high in saturated fats and sugars, are a major cause of weight gain for many people.
Weight changes of 5 to 10 pounds are unlikely to cause serious health problems in most people. However, rapid weight gain or loss can have health implications. People with underweight are more likely to have reduced immunity, low energy levels and nutritional deficiencies, the British National Health Services cautions. People with underweight may have irregular menstrual cycles and reduced fertility. Issues with overweight and obesity are endemic in the United States. The National Heart Lung and Blood Institute states that people who have overweight are at an increased risk for heart disease, type II diabetes, sleep apnea and several types of cancer.
The best way to prevent excessive weight gain or weight loss while taking Zoloft is to adhere to a healthy diet and exercise regularly. Fresh fruits and vegetables, whole grains, lean meat and low-fat dairy products are excellent choices for a healthy diet. Strength-training exercises may help build muscle mass in patients with underweight, while regular aerobic exercise like running or cycling can help burn calories in those who have overweight.
Not all patients taking Zoloft experience weight changes or other side effects. Weight gain and loss are generally most pronounced at the beginning of treatment and often level off after a few months. If weight changes are persistent or severe, your doctor may adjust the dose of medication or prescribe other treatments.
Is this an emergency? If you are experiencing serious medical symptoms, please see the National Library of Medicine's list of signs you need emergency medical attention or call 911.