Although you're hardly tempted to eat when you have a case of diarrhea, choosing to refuel your body with the right foods can actually help you feel better quickly. An ideal diet to eat with diarrhea is one that is high in starchy foods. Your body absorbs the nutrients in these foods relatively quickly, and they add firmness to your bowel movements.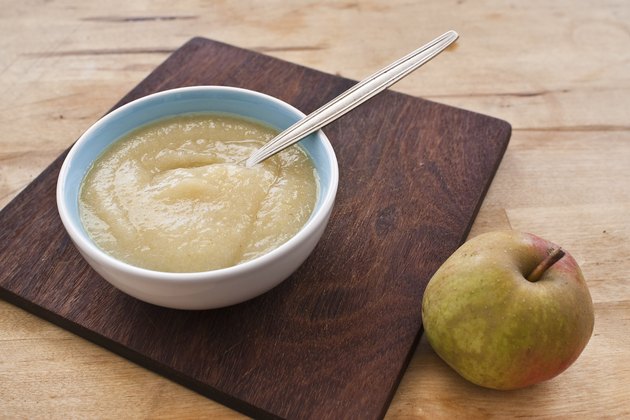 Bread, Rice and Potatoes
The last thing you might want to do if you have diarrhea is make a trip to the supermarket, but you likely have one or more acceptable types of starchy foods in your kitchen pantry. These foods include bread, pasta, dried cereal and crackers. Other suitable starchy products that you can often find at home include rice and potatoes.
Liquids and Fruits
Other appropriate foods to eat when you have diarrhea include bananas and apples or applesauce. You might not be able to handle solid foods, starchy or otherwise, early during your bout with diarrhea. In this case, focusing on fluids such as water and clear broth can provide a degree of hydration while being mild on your stomach and digestive system. Other suitable drinks include apple juice, weak tea and flat soda.
Gradually Expand Your Diet
After consuming a combination of liquids and starchy products for the first 24 to 48 hours after developing diarrhea, it's often safe to begin incorporating other types of food into your diet, provided they don't worsen the condition. Foods that are typically safe include eggs, cooked vegetables and poultry. Avoid significantly seasoning your foods and abstain from those that are excessively greasy or spicy, as these might further complicate your diarrhea.
Call Your Doctor
Although dietary changes can help you handle the symptoms of your diarrhea, it can be necessary to call your doctor if you experience excessive dizziness or signs of dehydration, such as a dry mouth, in conjunction with your diarrhea. Arranging an appointment with your doctor is also necessary if you have a fever of at least 101 degrees Fahrenheit, notice blood in your stools or have excessive stomach pain.