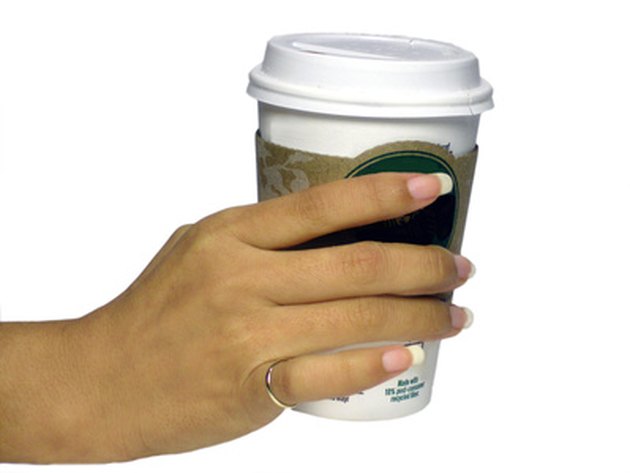 Starbucks Frappuccino is one of the company's most popular products and is a "creamy blend of coffee and low-fat milk," according to the company website. The Frappuccino is so successful, Starbucks began selling the drink in retail establishments worldwide in glass bottles, but the nutritional formula is not listed on their website. The nutritional facts listed on the 9 1/2 fluid ounce bottle are based on a 2,000-calorie-per-day diet.
Carbohydrates and Vitamins
The Frappuccino does have nutritional value. Although high in sugar, based on the U.S. recommended daily allowance, or RDA, the bottled version contains 22 percent of the suggested daily calcium for an adult. The Frappuccino contains 30 g of sugar and is a major part of the carbohydrates, which total 39 g or 13 percent of the RDA.
Protein
The bottled drink contains 6 g of protein. The dietary reference intakes (DRI) of acceptable macronutrient show the range of protein in grams to be 10 to 35 daily for adults, according to the Institute of Medicine. The protein comes from the milk portion of the Frappuccino.
Calories, Fat and Cholesterol
A bottle of Frappuccino contains 190 calories. The label lists 27 of the calories from fat. The total fat is 3 g of which 2 g are saturated fat. The total fat is 5 percent of the recommended daily amount of fat. Cholesterol is 12 mg or 4 percent of the RDA.
Sodium
Starbuck's Frappuccino in a bottle contains 5 percent of the daily recommended amount of sodium. The bottles label shows the drink contains 110 mg of sodium.
Considerations
The bottled version of Starbuck's Frappuccino has different nutritional values than the drink that is served in the company's restaurants. The recipe is proprietary, and Starbuck's does not list the nutritional value of the Frappuccino on its website or in its stores. According to its website, because the drink is custom-made for each serving, nutritional values will vary.