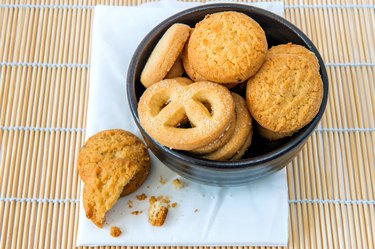 When you have a sweet tooth for convenience-store goodies, make smarter choices when it comes to picking which junk food you will eat. While junk food is appropriately named because it offers little in the way of nutrition, there are some lower-calorie options to feed your junk food cravings.
100 Calorie Packs
Look for name-brand sweets in small, 100-calorie packs. The makers of Oreo cookies, Doritos chips and other junk food manufacturers recognize that dieters still want a sweet snack. Many of these foods are packaged in 100-calorie packs. The catch is that you cannot rip open one pack after another, or you might end up eating more than you would with the traditional packages. A 2009 study by the Center for Science in the Public Interest concluded that these packs cost as much as three times more per ounce than if you purchased a large package and divided them up.
Baked Chips
If your a potato chip eater, go with the brands that offer a baked version. Baked Lays, for instance, have 20 percent fewer calories than the company's original chips. If you don't mind eating a less greasy chip, light brands often have half of the calories that come with standard chips.
Fruit Roll-Ups
You may think of Fruit Roll-Ups as a snack for lunchboxes and soccer games, but these tangy treats can provide a relatively harmless fix for your sweet tooth at just 50 calories apiece. Produced by General Mills, Fruit Roll-Ups also come in Strawberry and Wildberry Punch mini-rolls containing just 40 calories each.
Hershey's Sugar Free
Hershey's has introduced a line of sugar-free versions of its most popular chocolates, such as Reese's Peanut Butter Cups and Hershey's Chocolate Bars, along with sugar-free reincarnations of Jolly Ranchers hard candies and Twizzlers licorice. They have around 20-percent less calories than the original versions. For example, five sugar free peanut butter cups have 140 calories--not too bad for a junk food splurge.