You can gain 10 pounds over a reasonable amount of time, but upping your weight at a fast pace probably won't give you satisfying results. Adding pounds too quickly will only pack on fat because there's a limit to how quickly you can gain muscle. Aiming for a gradual gain is much healthier, and is a longer-term project that requires consistent training and extra calories from a balanced diet.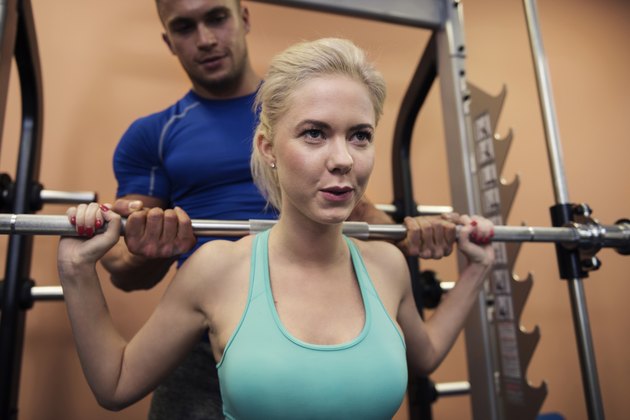 Consume Extra Calories for Weight Gain
To gain weight and stay safe and healthy, aim to put on a maximum of 1 pound a week. That may not sound quick, but with healthy weight gain you won't see fast results. With a goal of gaining 10 pounds over 10 weeks, you'll need to add 500 calories to your daily diet -- on top of the calories needed to maintain your current weight. If you don't know your maintenance calories, the Baylor College of Medicine's online tool calculates your baseline. To give you an idea, a 120-pound woman who's 5 feet 5 inches tall and moderately active needs 2,060 maintenance calories. An extra 500 calories brings her up to 2,560 daily calories to gain 10 pounds in 10 weeks.
While this gives you a starting calorie goal, it may take a little trial-and-error to figure out the daily calories you'll need because everyone's metabolism is different. It's important to eat the extra 500 calories every day. You could aim to meet a weekly calorie goal, consuming less on one day and then making up for missed calories another day, but depending on your appetite, you might not get enough calories. Gaining weight sounds easy compared to losing weight, but sometimes it's hard to make up for calories if you get behind.
Strength Training to Build Muscles
Strength training, or resistance training, is essential if you want to gain muscle instead of fat. When you lift weights, pull a rubber exercise band, or use your own body weight for resistance -- like when you do situps and pushups -- your muscles develop a normal amount of wear-and-tear. As the body makes repairs, it also builds new muscle. Resistance training also increases levels of growth hormone, which boosts muscle synthesis.
Each person produces new muscle at a different rate, but exercise physiologist Alan Aragon calculated that beginning muscle builders may gain 1 to 1.5 percent of their total body weight in new muscle per month. As you continue to train, muscle growth gradually slows down.
If you're new to strength training, work with a certified trainer or consult a physical therapist. To get maximum results, you'll need to learn about how much weight to use, which exercises target the major muscle groups and when to rest so muscle can recover.
Meeting Your Calorie Goals to Gain
An effective way to get more calories is to eat bigger portions and combine multiple foods with high calories at each meal. For lunch and dinner, mix proteins -- meat, fish, poultry, eggs, milk and cheese -- with whole grains like quinoa, brown rice and whole-wheat pasta. Don't forget to add veggies and fruits for essential nutrients to support muscle growth.
Mixing high-calorie foods also works for breakfast. You'll get about 720 calories from a breakfast of granola, Greek yogurt, blueberries, raspberries and an ounce of nuts. A more moderate choice is a cup of oatmeal, topped with a cup of blueberries and 1 ounce of walnuts, which comes in at 430 calories.
Optimize calories in snacks with choices like whole-grain bread with peanut butter and bananas slices, hummus on oat cakes, trail mix and nuts. High-calorie beverages also make a good snack or can be added to meals. A smoothie with half of a banana, a scoop of protein powder, a handful of blueberries and a cup of milk delivers at least 400 calories. Look for ways to add nuts, dried fruits, seeds and olive oil to your foods because they're nutritious and high in calories.
Protein for Muscle Mass
You need protein to repair and build muscles, so your daily diet should include 0.8 gram of protein for every pound of body weight. When you eat protein also makes a difference. Getting about 30 grams of protein at regular intervals -- at least three times daily -- stimulates maximum muscle protein synthesis, according to the Journal of Nutrition in June 2014. Consuming a balanced meal in the hour or two before and after weight training also supports muscle recovery and building.
A 3-ounce serving of lean beef and 1 cup of soybeans each have 30 grams of protein, but most foods don't have that much. The oatmeal, blueberry and walnut breakfast has 11 grams of protein. A container of Greek yogurt adds 17 grams, and if you toss in a few more nuts or seeds, you'll have a breakfast with 30 grams of protein. Fish for lunch or dinner is a good choice, with 22 grams of protein in a 3-ounce serving. A 1/2-cup side of beans adds 8 grams. One egg or an ounce of nuts, seeds or cheese can all be used for a 6- to 8-gram protein boost.
If you'd like some guidance with planning a balanced weight-gain diet, consult a registered dietitian or sports nutritionist.