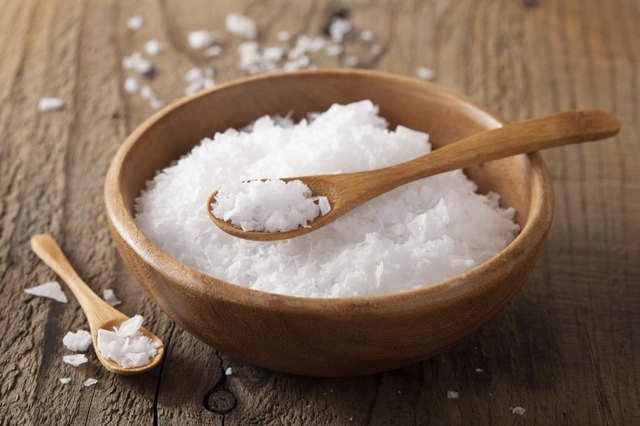 Many foodies like sea salt because of its unique texture and flavor -- and because it's a natural form of salt found in the ocean. Although sea salt may contain slightly more nutrients than table salt, don't overdo it by adding too much sea salt to your food. If you're looking to add more iodine to your diet, look for iodized versions of sea salt.
Iodine in Sea Salt
Although sea salt does contain iodine, it generally provides less iodine than table salt, according to the American Heart Association. This is because many, but not all, varieties of regular table salt are iodized -- meaning extra iodine is added during processing. However, if you prefer the crunchy texture and strong flavor of sea salt but want the extra iodine found in iodized table salt, look for varieties of iodized sea salt. Though it can be difficult to determine the exact amount of iodine in sea salt because it isn't included on nutrition facts labels, many iodized salts contain about 71 micrograms in each 1/4-teaspoon portion, according to the Office of Dietary Supplements.
Sea vs.Table Salt
Although sea and table salts have different textures and slightly different flavors, they are similar in nutrition content -- including iodine content -- if both are iodized. Table and sea salts also have approximately the same sodium content. However, while table salt often has a finer texture, making it easier to mix into certain recipes, sea salt often undergoes minimal processing and contains small amounts of magnesium, potassium and calcium, according to the American Heart Association.
Daily Iodine Requirements
Although most adults in the U.S. get plenty of dietary iodine, pregnant women and people who avoid iodized salt may be at risk for iodine deficiency if they limit iodine-rich foods in their diet. The Institute of Medicine reports the recommended dietary allowance, or RDA, for iodine is 150 micrograms for adults, 220 micrograms during pregnancy and 290 micrograms of iodine daily for breast-feeding women.
Sources of Iodine
In addition to iodized salt and iodized sea salt, a variety of foods are also rich in dietary iodine -- especially dairy products, seafood and seaweed. For example, 3 ounces of cod provide 99 micrograms, a cup of yogurt contains 75 micrograms, a cup of reduced-fat milk provides 56 grams, 3 ounces of shrimp contain 35 grams and 1 ounce of cheese provides 12 grams of dietary iodine, according to the Office of Dietary Supplements.
Concerns
Eating too much of any kind of salt, including sea salt, can increase your blood pressure and your risk for heart disease. The Academy of Nutrition and Dietetics notes that 1/4 teaspoon of sea salt often contains between 400 and 590 milligrams of sodium. The American Heart Association recommendation is to consume no more than 1,500 milligrams of sodium daily.