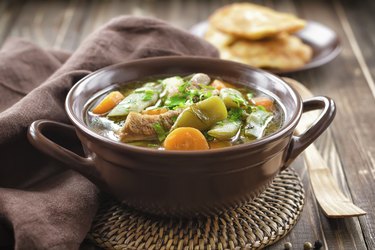 Soup is a quick, hot meal that offers plenty of health benefits. You can throw a variety of ingredients into a slow cooker in the morning before you leave for work or school and return home to a delicious meal in the evening. The healthiest soups include fresh, low-fat ingredients and a minimum of salt and extra fat. You can use up leftovers in a soup pot and create new variations of favorite recipes, since soup lends itself to experimentation.
Vegetables
The American Heart Association recommends adults consume eight or more servings of fruits and vegetables every day. That's 4 ½ cups. Soups can contribute to that total. Almost any vegetable lends itself to use in soup, from creamy squash or tomato bisques to vegetable beef or chicken vegetable soup. Add fresh or frozen vegetables to canned soups to increase the servings of vegetables and add flavor.
Nutrients
Soups made with beans and lean meats such as fish provide lean protein. Beans also give you fiber. Tomatoes are a good source of lycopene, an antioxidant that may help reduce the risk of cancer, particularly prostate cancer, according to Penn State University. Vegetables in soup contain many vitamins, such as A and C. Cream soups supply calcium and vitamin D.
Low Fat
Most soups, if made with lean meat, are low in fat, making them a good choice for anyone concerned about fat in his diet. Use fat-free broths and lean meat to reduce the fat content of soups. se skin milk for cream soups; or, instead of milk, you can use pureed white beans to thicken soup. To further reduce the fat content of your soup without sacrificing flavor, chill it and skim off the fat before reheating and serving.
Filling
Because soup contains so much water it fills you up with fewer calories. When Barbara Rolls, Ph.D., conducted research at Penn State University, she discovered that students who ate chicken and rice soup instead of a chicken and rice casserole, consumed fewer calories yet reported being equally satisfied. Rolls is author of the book, The Volumetrics Weight Control Plan, in which she explains how eating soup and other high-volume, low-calorie foods can help you lose weight.