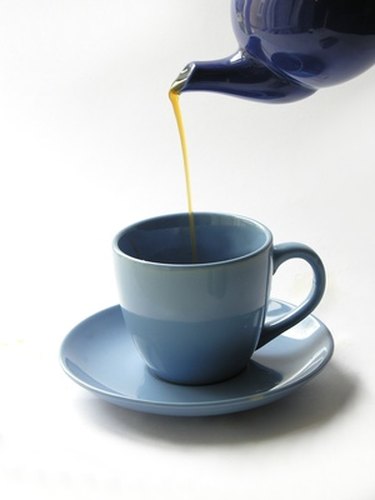 A product of Sunrider International, Calli Tea provides all the benefits of green tea plus more thanks to its unique concentration of herbal ingredients such as camellia leaf, perilla leaf, mori bark extract, alisma root extract, and imperate root. Calli Tea, which does not contain caffeine, added sugar, or artificial sweeteners, comes in regular, cinnamon, or mint flavors. And because of its herbal concentration, one Calli Tea bag can make four cups of tea.
Detoxification
Like other forms of green tea, Calli Tea's main benefit comes in detoxifying the body. Camellia sinensis, the main ingredient in Calli Tea, contains antioxidant polyphenol chemicals known as catechins. These catechins aid in the body's natural cleansing process and absorb harmful free radicals, removing them from the body before they can do any damage. Unlike acidic beverages like coffee, Calli Tea is alkaline in nature, creating an environment within the body that prohibits the easy absorption of impurities and toxins resulting from the normal digestive process. As a result of the improved detoxification, Calli Tea drinkers report increased mental clarity and improved function of the immune, endocrine, digestive, respiratory, and circulatory systems.
Digestion
Calli Tea's detoxification properties help improve digestion, aiding in the elimination of waste without serving as a laxative or diuretic. Drinking Cinnamon Calli Tea, in particular, can prove beneficial to digestion, with cinnamon long revered for its ability to soothe stomach discomfort and calm nausea symptoms.
Antibacterial
Aside from its detoxifying abilities, camellia sinensis acts as an antibacterial to combat infections. Calli Tea also contains lemon herbal extract, another recognized antibacterial and antiviral herb in Chinese medicine. Because of these ingredients, drinking Calli Tea can help ease symptoms of the common cold.
Respiratory
According to Chinese medicine, herbalists also prescribe camellia sinensis to treat asthma and other respiratory ailments. Chrysanthemum flower, another ingredient in Calli Tea, provides relief of sinus congestion and allergy symptoms, while also acting to strengthen the lungs. Mint flavored Calli Tea only enhances these benefits, with mint's strong aroma helpful in opening up congested noses, throats and lungs.
Relaxation
Calli Tea offers the same soothing effects of other herbal teas, helping calm the mind and alleviate stress. However, Calli Night, another Calli variation, enhances relaxation and promotes a more restful sleep thanks to ingredients such as passion flower, ho shou wu, jujube seed, poria, camellia leaf, sage root, rose hip, imperate root, and winter melon seed.