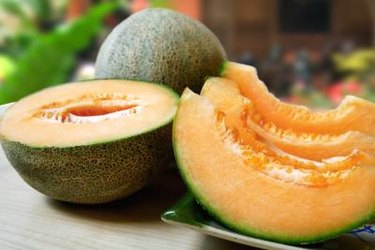 You might think of melon seeds as a part of the fruit to be cleaned away, removed and later planted, but not eaten. According to Vegetarians in Paradise, people in the Middle East and China have been eating toasted melon seeds as a snack for centuries. In fact, these seeds, particularly those of the cantaloupe, provide various health benefits. In modern times, cantaloupe seed kernels are used in some parts of the world as a soup base and emulsifying agent.
Protein Benefits
According to a study published in the "World Applied Sciences Journal," the extract of cantaloupe seeds provides numerous health benefits. The study, led by H. Baghaei of Ferdowski University of Mashhad, Mashhad, Iran, investigated the viability of a milk beverage made from cantaloupe seeds. The researchers found that cantaloupe seed extract contains 3.6 percent protein, 4 percent fat and 2.5 percent carbohydrate, which is similar to the nutritional content of soy milk. The researchers believe milk made from cantaloupe seeds could be a valuable substitute for soy milk as a source of protein, and could be beneficial as an infant formula.
Intestinal benefits
The seeds of the cantaloupe and the "netting" around them are high in fiber, and eating them may benefit the intestines, reports Vegetarian In Paradise. In addition, the seeds are thought to have the ability to purge excess phlegm and congestion from the body. Cantaloupe seeds are not considered a cure for intestinal problems or congestion.
Rich in Vitamins
The seeds and surrounding strings and "meat" are abundant in various important nutrients. Using only the seeds, surrounding flesh and some water, you can make a "smoothie" that is high in vitamin A and vitamin C, contains 25 calories and no fat or cholesterol.