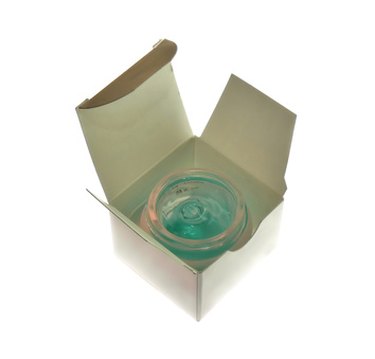 According to the National Institutes of Health Office of Dietary Supplements, magnesium is the fourth most abundant mineral in the body. Half of its content in the body is found in the bones and the other half is primarily found in the cells of tissues and organs. Magnesium serves a range of benefits and is found in many different types of foods, but is also available as a topical gel form. Consult your health care provider for complete information on magnesium and its benefits.
Detoxification
Magnesium gel is a concentrated form of magnesium that contains other trace elements that help to boost magnesium absorption through the skin, according to Wellsphere.com. The mineral is required for various natural processes that occur in the body, but it is often the most deficient mineral in people. Insufficient levels of magnesium may contribute to heart disease, high blood pressure, diabetes, asthma, osteoporosis and other disorders, as it is involved in supporting the health of nearly every cell in the body. Applying magnesium gel topically allows the magnesium to become effectively absorbed into the body and encourages the cells in the body to detoxify and cleanse themselves. This form of magnesium also helps to protect the body against the toxic metals that accumulate in the systems, including aluminum, mercury lead, and cadmium.
Muscle Health
Magnesium gel typically contains magnesium chloride, which is one of the most easily absorbed forms of the mineral, according to International Medical Veritas Association. Magnesium chloride, applied topically, is the most efficient delivery system of the mineral and provides various benefits for muscle health and pain management. Topical applications of the mineral may treat and improve muscle pain, cramps and fatigue. Magnesium gel works quickly to deliver the mineral through the thin skin and into the glands, lymph channels and bloodstream, in order to reduce inflammation and encourage regeneration of tissues. Regular treatment may also help to increase flexibility, strength and endurance, which proves especially beneficial for athletes, coaches and doctors that practice sports medicine.
Mental Health
Magnesium gel may also serve to benefit psychological health, as regular applications may help to reduce and prevent depression, according to the Magnesium Website Online Library. Cortisol is a hormone produced by the adrenal glands and helps to regulate blood sugar levels. Adrenal glands tend to overproduce cortisol during stressful situations, resulting in a reduction of the body's ability to preserve magnesium. Regular magnesium gel applications on the skin may help to keep the adrenal glands and cortisol hormones in balance, thus reducing stress and preventing associated depression. The mineral's ability to support adrenal function gives it an antidepressant effect, which may help to reduce and prevent hyperactivity, nervousness and mental confusion.