The loss of muscle following a period of absence from training is referred to as detraining, according to the National Strength and Conditioning Association. Detraining effects occur when there is a significant reduction in the frequency, volume or duration of normal training. The magnitude and time-course of strength loss depends on your training background, but Wilmore and Costill assert that detraining effects occur in four areas.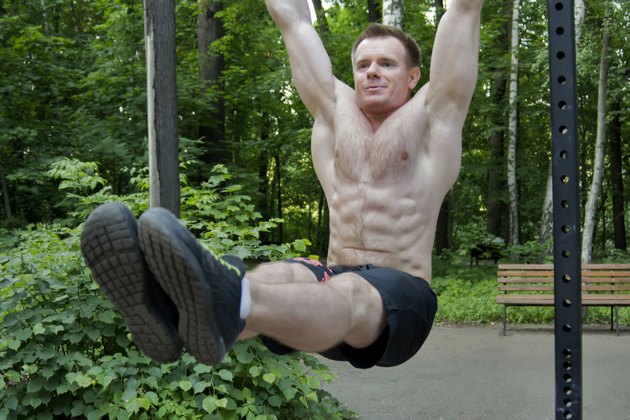 Muscle Strength and Power
Wilmore and Costill report that losses in muscular strength usually do not occur within the first four weeks of detraining. These authors cite several studies consistently reporting similar pre- and post-test strength in athletes who have been injured or detrained for a month or more. Power, on the other hand, has been reported to decrease substantially within one week of detraining and continues to decrease as time goes on.
Muscle Endurance
According to Wilmore and Costill, losses in muscular endurance occur much faster than strength. A period of just two weeks of detraining can lead to losses in muscular endurance performance. Endurance is related to maximal oxygen uptake, the ability to use large volumes of oxygen while exercising, and stored glycogen content, which the body uses for energy. Detraining can result in substantial decreases in both of these. Further, detraining results in increased lactate concentration in the blood, which causes earlier fatigue while exercising.
Speed, Agility and Flexibility
Speed and agility are less affected by training, according to Wilmore and Costill, and thus not substantially influenced by detraining. Some degree of speed and agility will suffer if untrained, but Wilmore and Costill report that these skills are more easily retained. Flexibility suffers the effects of detraining much more quickly. Even short periods of inactivity will result in stiff muscles and joints.
Cardiovascular Endurance
Wilmore and Costill say that the heart is subject to training and detraining in the same way as skeletal muscle. With 20 days of complete bed rest, Wilmore and Costill report that athletes have shown increased heart rates, decreased stroke volumes, decreased cardiac output and decreased maximal oxygen consumption. These effects have also been reported in periods of even less time.
Regaining Adaptations
Luckily, the body gains positive adaptations from training more quickly than it loses them. Recovery after a period of detraining is known as retraining and is influenced largely by how active you were prior to detraining and how long the detraining period was. Following just two weeks of retraining, athletes can approach levels close to where they were before detraining. Wilmore and Costill suggest that if detraining is necessary due to injury or illness, exercisers should be creative and find ways to stay mobile and active in any way possible. This will markedly limit the detrimental effects of prolonged rest.