Teens who turn to weight loss supplements run the risk of serious health problems, and, because the U.S. Food and Drug Administration does not regulate weight loss supplements and herbs and no weight loss supplements are tested on adolescents, there is no way to know if you're taking a safe or effective product, according to TeensHealth.org. In 2007 to 2008, 18 percent of adolescents were overweight, according to the Centers for Disease Control and Prevention.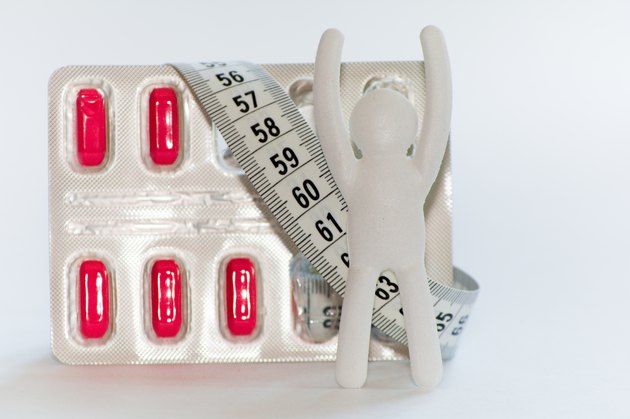 Types
Teens may use supplements to lose weight or enhance sports performance. To lose weight, teens may use thermogenics, or fat burners. Though the U.S. Food and Drug Administration banned ephedra because of the risk of side effects, fat burner supplement makers may use ephedra-like ingredients such as country mallow or bitter orange, according to TeensHealth.org. Teens may also turn to the drug orlistat, available over-the-counter as Alli, to lose weight. Manufacturers haven't tested the safety or effectiveness of this medication in people under 18, and it's not recommended for teens, according to TeensHealth.org. Adolescents interested in improving sports performance and physique may also use natural steroid or creatine supplements.
Potential Benefits
Weight loss supplements may help dieters lose weight and lose body fat. Orlistat, for example, produces an average weight loss of 10 lbs. in those who are overweight, according to the National Diabetes and Digestive and Kidney Diseases' Weight-control Information Network. Losing weight can reduce the risk of other health problems, such as high cholesterol levels, high blood pressure and diabetes. If you take medicine for these health conditions, you may require less of it if you lose significant weight with weight loss supplements.
Risks
Side effects of weight loss supplements may include gastrointestinal problems such as flatulence, oily anal discharge and abdominal bloating. Thermogenics can cause heart problems, stroke and in some cases, even death, according to TeensHealth.org. Other supplements contain lots of caffeine, which can make you feel restless, anxious, dizzy or give you a racing heartbeat. To lose weight without dangerous side effects, teens should talk to their doctors about a healthy eating and exercise program, TeensHealth.org recommends.