Iron is a metal that's essential to the functioning of the human body. Supplemental iron should be taken when diet alone does not provide adequate iron intake. If your doctor finds that you have iron-deficiency anemia, he will likely prescribe an oral iron supplement. There are various forms of iron supplements, and it's important for your health to understand the different forms and which types are absorbed best.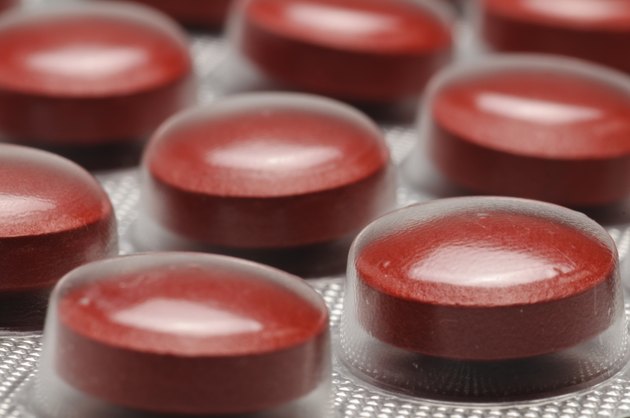 Ferrous Iron
There are two types of iron that are prescribed: ferric and ferrous iron. Ferrous iron is better absorbed by the body than ferric iron. For this reason, most iron supplements contain ferrous iron. Three types of ferrous iron are typically prescribed: ferrous sulfate, ferrous fumarate, and ferrous gluconate. These supplements are available in many forms, including tablets, capsules, liquids, drops and extended-release.
Ferric Iron
Because ferric iron is not absorbed as well as ferrous iron, it is not prescribed as often. In addition, studies have shown that ferrous iron is tolerated better by patients than ferric iron. Because the gastrointestinal tract has less ability to reduce ferric iron to its ferrous form, there is a reduced chance of iron poisoning with iron citrate, which is the most commonly used form of ferric iron.
Iron Supplement Dosages
All three of the common ferrous iron forms come in 325-milligram doses, and each one contains a different amount that your body can use. This amount is called "elemental iron." When choosing your iron supplement, look at the elemental iron content rather than the tablet size. The amount of iron you require will vary depending on the severity of your anemia, but adults generally need 60 to 200 milligrams of elemental iron daily to remedy iron-deficiency anemia. Because the amount of iron absorbed decreases as dosage increases, taking two to three equally spaced doses per day is generally recommended.
Use Iron with Caution
Iron supplements, if taken in large doses, can cause severe stomach upset. Start with a half dose and gradually increase until you reach the recommended dosage. In addition, because very little iron is excreted from the body, there is a high potential for toxicity if iron supplements are used incorrectly. Death has occurred in children who have taken 200 milligrams of iron. Your doctor may prescribe a dose that exceeds the tolerable upper intake level in order to treat anemia. For this reason, taking iron supplements, regardless of type, exactly as instructed, is very important.