The peppermint, or Mentha piperita, plant grows freely throughout the United States and is cultivated for its aromatic oil. The leaves of the plant are also valuable for making herbal tea, which is readily available in health food stores. The list of potential benefits from peppermint tea is long and includes treating an upset stomach and stimulating the immune system. It may also be beneficial for treating diarrhea, insomnia, anxiety and minor heartburn. Although aromatic and relaxing, there are still a few dangers associated with the herb. Talk to your doctor before using peppermint to treat any medical condition.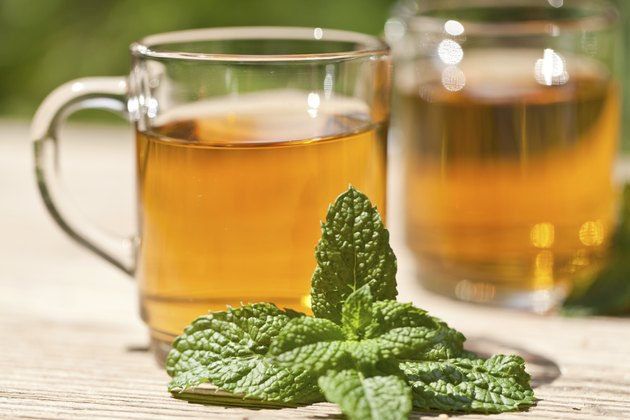 Contamination
The FDA does not oversee the production of herbal teas and supplements, so there is no guarantee that the peppermint tea you purchase is free from contaminants, including pesticides. Purchase tea from a well-known and reputable manufacturer to reduce the risk of contamination.
Pregnancy
Avoid drinking peppermint tea or consuming other forms of peppermint during pregnancy, advises the "Gale Encyclopedia of Alternative Medicine," especially if you have a history of miscarriage. While the tea is safe for most pregnant women, large amounts may trigger a miscarriage.
Infants and Children
Do not give peppermint tea to infants or small children, even in small doses. The aromatic oil from the peppermint can cause serious breathing problems. Breastfeeding mothers should also avoid peppermint tea.
Acid Reflux
If you suffer from acid reflux or gastroesophageal reflux disease (GERD), drinking peppermint tea may relax the valve that separates the esophagus from the stomach. This can increase the backflow of stomach acid into the esophagus, making the condition worse.
Drug Interactions
According to the University of Maryland Medical Center, peppermint may interfere with some prescription medications, including drugs taken to reduce stomach acid, drugs used to treat diabetes, blood pressure medications and cyclosporine. Do not drink peppermint tea or use the essential oil of peppermint if you're taking any type of medication without talking to your doctor first.