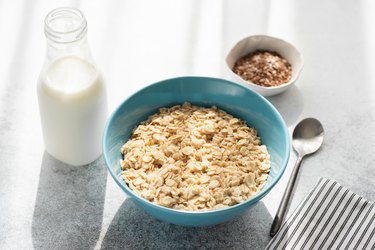 A bowl of warm oatmeal or overnight oats is a nutritious way to start your day. And the best part? It's customizable — so you can add peanut butter, protein powder, fruit or even egg whites to your bowl for a wholesome breakfast worth waking up to!
Not only do oats help lower dangerous LDL cholesterol, but they can also help you feel full throughout the morning thanks to their fiber content, which deems them a great food for weight control, according to the Whole Grains Council.
Calories in Oatmeal
Generally, oatmeal isn't very calorie-dense. The exact number of calories in oats, however, depends on the type you're eating — whether it's rolled, steel-cut or instant oats. The serving size also varies according to your oat of choice but the standard serving size is a half-cup (40 grams) dry.
Steel-cut varieties have been cut into two or three pieces using a sharp blade. A quarter cup serving of dry steel-cut oats contains 154 calories and 3.6 grams of fiber, according to the USDA. Since this variety is minimally processed, it can be tougher to chew or digest but offers a wonderful, crunchy texture.
A half-cup serving of rolled oats — sometimes called old fashioned oats — clocks in at about 150 calories and four grams of fiber per half-cup dry, according to the USDA. Rolled oats boast a faster cooking time than other varieties since the oats are rolled into flakes, lending them a larger surface area, according to the Whole Grains Council.
One of the most common types of oats is instant or quick-cook oats. Instant oat calories vary by packet but typically contain about 150 calories and three grams of fiber, according to the USDA. The calories in instant oatmeal may rise or fall depending on the packet size or the flavor you choose. That's why it's best to stick with the plain, unsweetened variety to cut down your intake of added sugars and calories.
Customize Your Oatmeal
The beautiful thing about oatmeal is that it's a blank canvas. While added ingredients will affect the total calories in oatmeal, they can also add flavor and nutrients. Pair your oatmeal with some peanut butter to add some satiating fat content. A two-tablespoon serving of peanut butter will add about 180 calories and seven grams of protein, according to the USDA.
If you prefer a fruity breakfast, toss in a half-cup of blueberries, which will add 42 calories and nearly two grams of fiber.