If you've been sweating like crazy over a cardio machine for years without seeing results, it's time you picked up a dumbbell. While cardio exercise can help torch calories and body fat, strength training helps to build lean muscle mass, which can alter your body and accentuate your curves. Most women fear the weight room because they fear "bulking up," but the truth is that you need an extreme diet and specific fitness plan to build bulk. For most women, three days of strength training a week is enough to build a lean appearance and a stronger body.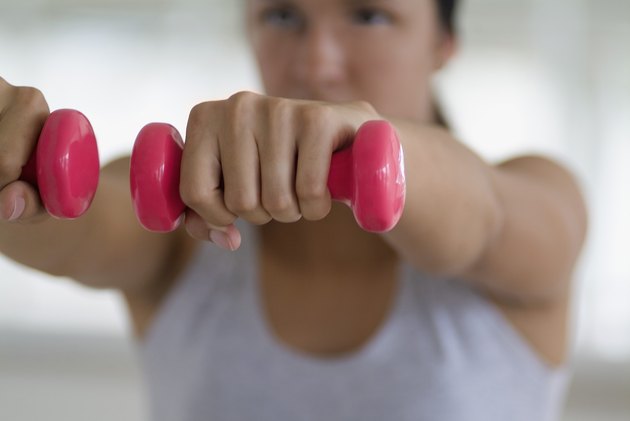 Total Body Training
A total body workout split means you will be working your major muscles for your three strength-training workouts. This means that you should plan to do your workouts Monday, Wednesday and Friday, so that you can have a day of rest in between each workout as well as the weekend free. A full body workout split utilizes exercises that work more than one muscle group at a time, like the squat and press exercise. Choosing exercises that incorporate more than one muscle group allow you to train more without spending hours at the gym.
Upper and Lower Body Split
When you want to focus on each muscle group but still want to work both your upper and lower body in one strength training session, choose an upper and lower body split. This type of training has you working the main muscles in your upper body followed by exercises that target the main muscle groups. For example, you would perform a few sets of shoulder presses, biceps curls and triceps extensions for your upper body and then follow it with squats and lunges for your lower body. When you choose this split, try to alter the exercises you perform so that you aren't doing the same exercises three times a week.
Targeting Specific Muscle Groups
Another way to divide your strength training into three separate training days is to have each training day target different muscle groups. For example, one day would be shoulders and biceps, the second would be legs and back and the third chest and triceps. Dividing your strength-training routine like this allows you to target each section of your body more specifically. You can perform more exercises each session on the desired muscle, really working on building it.
Sets and Repetitions
The number of sets and repetitions depends on where you are at in your training. Newcomers to strength training should start slow and work their way up. Begin with 12 to 15 repetitions of each exercises for two to three sets. Choose a weight that allows you to complete the exercise with the proper form. Once you become more familiar with strength training and the exercise, increase the amount of weight you are using. Lifting light weights will not change your body in any way, you need to lift heavy weights if you want to challenge your body and achieve the look you desire.