Uric acid is formed in the body from the normal breakdown of chemicals called purines, which arise from normal DNA and RNA turnover, from molecules that are the source of energy in cells or from dietary sources. A higher than normal blood uric acid level is called hyperuricemia. Hyperuricemia can be caused either by overproduction of uric acid in the body or a decrease in the excretion of uric acid by the kidneys.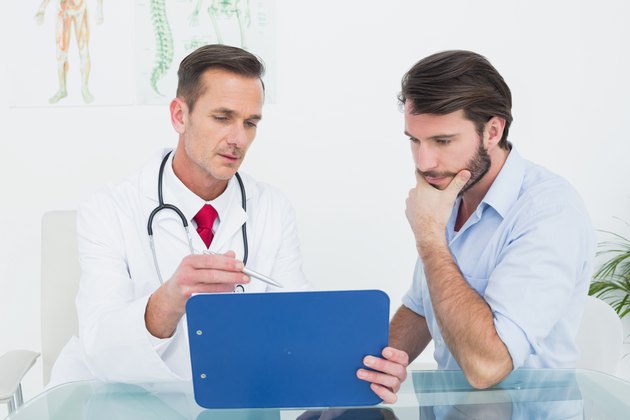 Increased Purine Metabolism
High uric acid levels often occur in people with rapidly growing tumors, such as those associated with metastatic cancer, multiple myeloma and certain leukemias and lymphomas. With these tumors, the large number of tumor cells turning over contributes to the overproduction of uric acid. Chemotherapy treatments can also sometimes cause high uric acid levels due to tumor lysis syndrome. This syndrome occurs when someone has a large tumor burden and the chemotherapy causes high numbers of cancer cells to die all at once and release their cellular content, including DNA and RNA, into the bloodstream. This ultimately increases the concentration of uric acid in the blood.
Genetic Causes
Genetic conditions and inborn errors of metabolism can also cause an overproduction of uric acid in the body. These conditions are rare, inherited disorders that individuals are born with. Lesch-Nyhan syndrome is one example of an inborn error of purine metabolism. It is caused by a defect in a gene that makes a protein called hypoxanthine phosphoribosyltransferase 1 or HPRT1. HPRT1 is an important enzyme in the body for getting rid of uric acid; without this enzyme, uric acid levels build up. Gout, kidney and bladder stones and neurological and behavioral problems characterize this disorder.
Decreased Excretion
Decreased uric acid excretion is a common mechanism that produces high uric acid levels in the body. Although the underlying cause of decreased excretion in most people with hyperuricemia is not completely understood, decreased uric acid excretion can occur for several known reasons, including chronic kidney disease. With chronic kidney disease, the kidneys over time lose their ability to filter and remove waste products from the body. Because uric acid is filtered through the kidney and excreted in the urine, if kidneys are not functioning properly, uric acid is not removed from the body as effectively and leads to a buildup of uric acid levels. Metabolic or endocrine diseases such as acidosis can also cause decreased excretion of uric acid.
Additional Considerations
Certain foods contain a high concentration of purine, and this can contribute to uric acid levels. These include organ meat such as kidney and liver, red meat, poultry, fish, sardines, anchovies, mushrooms, yeast and beer. Fasting can also increase uric acid levels by both increasing the production of uric acid and decreasing the excretion. During fasting, the body breaks down its own tissue for energy while the kidney is not able to excrete uric acid as efficiently because uric acid competes with other chemicals to be excreted. Rapid weight loss, stress and strenuous exercise also increase uric acid levels.