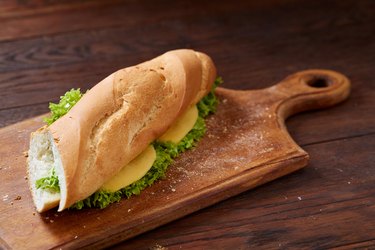 The Veggie Delite Sub is part of the Subway sandwich franchise's Fresh Fit line of subs, with 6 grams of fat or less. The Subway 6-inch Veggie Delite has 200 calories, without adding cheese or condiments.
The standard Subway build has lettuce, tomatoes and cucumbers, with green peppers and red onions on a 6-inch loaf of nine-grain wheat. The standard Subway build is also made without cheese or condiments. While Subway does have a standard build, customers can request a variety of additional toppings and condiments to customize the Veggie Delite sub.
Subway 6-Inch Veggie Delite
According to Subway.com, the standard 6-inch Veggie Delite sub weighs 163 grams and has the following nutritional values:
200 calories
2 grams of fat
no saturated fat
no trans fat or cholesterol
280 milligrams of sodium
39 grams of carbohydrates
5 grams of dietary fiber
5 grams of sugar
9 grams of protein
The sub also provides 35 percent of the daily value of vitamin A and 15 percent vitamin C as well as 2 percent calcium and 15 percent iron. The fiber in a Veggie Delite sub meets 20 percent of the daily value recommended for women and 13 percent for men, according to the National Academies of Sciences.
Changing Veggie Sub Bread Options
While Subway suggests the 6-inch nine-grain wheat, customers can choose any of the other bread options for their veggie sub, such as the foot-long loaf, flatbread and mini loaf. Customers can also remove the bread and turn the sandwich into a salad.
Keep in mind, however, that changing the bread will also change the nutritional values. For example, replacing the nine-grain wheat with the artisan flatbread adds 40 calories and 60 milligrams of sodium. The calcium, iron, vitamin A and vitamin C values remain the same.
Swap the wheat bread in your veggie sub out for the Italian bread and you'll lose 3 grams of fiber. This nutrient is important for bowel health, weight management and helps to control blood sugar levels, according to the Mayo Clinic.
Adding Cheese (and Calories)
Cheese adds up to an additional 6 grams of protein per 6-inch sub, depending on the type of cheese you choose, but it also significantly increases the fat and sodium content of the Veggie Delite sub. On a 6-inch sub, American cheese slices add 40 calories and another 3 grams of fat, 2.5 of which are saturated. American cheese also raises the daily value of calcium to 8 percent.
Adding cheese adds 200 milligrams of sodium as well. According to the American Heart Association, daily intake of sodium should not exceed 2,300 milligrams — or 1,500 milligrams if you have risk factors for heart disease.
Boost the Veggies
In addition to the vegetables in the standard Veggie Delite build, Subway also offers pickles, black olives and peppers such as banana and jalapeno. Some branches offer baby spinach, although it is not listed at the official site.
Adding vegetables to your Subway veggie sandwich may raise the calorie count by as much as 10 calories, but the fat content remains the same. The protein, vitamin and mineral values also remain unchanged. However, the addition of fermented vegetables, such as pickles and jalapeno peppers, can raise the sodium levels by as much as 200 milligrams.
Use Condiments and Sauces Sparingly
Subway's sauces range from high-fat mayonnaise to non-fat Italian dressing. Adding a condiment can raise the calorie counts by as much as 100 and the fat by as much as 11.5 grams. The condiments can also cause significant increases in sodium and sugar levels.
For example, Subway vinaigrette adds 30 calories and 110 milligrams of sodium. It also adds 1 gram of sugar. Olive oil blend increases the fat count by another 5 grams of fat, but the sodium and sugar counts remain the same.