Doctors prescribe Ambien, the brand name for the drug zolpidem, to treat insomnia--a condition characterized by the inability to fall asleep or stay asleep. The original formula of Ambien helps those patients with trouble falling asleep while the extended release version, known as Ambien CR, helps patients who have trouble staying asleep. Although doctors consider today's prescription sleeping pills such as Ambien safer than those of the past, according to MayoClinic.com, they still pose some risks such as the negative effects when taken with other medications.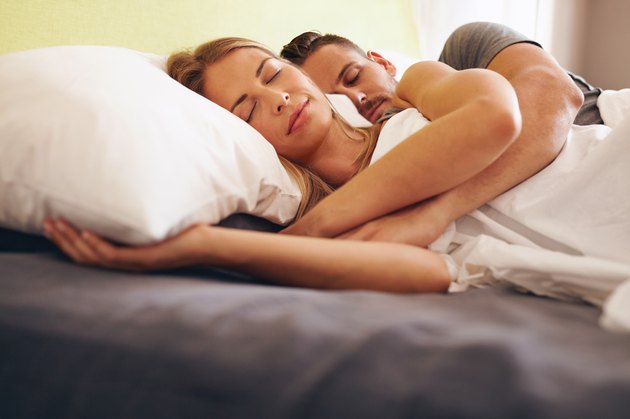 Effects of Ambien
Doctors classify the medication zolpidem as a sedative-hypnotic because it slows the activity of the brain. By slowing the activity of the brain it helps to induce sleep. Patients should therefore only take Ambien at bedtime and should sleep for at least seven to eight hours to avoid feeling drowsy or experiencing memory problems the following day, according to the U.S. National Library of Medicine. Because Ambien affects the brain it can contribute to mood changes including the onset of aggressiveness, strange outgoing behaviors, hallucinations, memory impairments, difficulty concentrating, slowed movement, speech impairments or new or worsening depression. Taking Ambien with certain medications can increase the risk for these effects.
Sedating Antidepressants
Because Ambien induces sedation, other medications that cause sedation, such as sedating antidepressants, can enhance the negative effects of Ambien. Doctors prescribe antidepressants, a group of medications that act on the chemicals in the brain, to treat conditions of depression. A tricyclic antidepressant describes an older group of antidepressant medications that includes imaprimine and amytriptyline. These medications cause side effects including sedation and should therefore not be taken with Ambien.
Mood Elevators
Doctors prescribe sertraline, the generic name of the medication Zoloft, to treat depression, obsessive compulsive disorder, panic attacks, post-traumatic stress disorder and social anxiety disorders. Belonging to the classification of medications known as selective serotonin reuptake inhibitors, sertraline helps to maintain mental balance by increasing the levels of serotonin in the brain. The mood elevating effects of sertraline can interfere with the ability of Ambien to work effectively.
Tranquilizers
Patients taking Ambien should also avoid taking medications classified as tranquilizers, also known as prescription sedatives. Tranquilizer medications include benzodiazepines, more commonly known as the brand name medications Xanax and Valium. Doctors prescribe benzodiazepines to treat anxiety, tension and sleeping disorders. These medications depress the central nervous system and slow normal brain activity, according to the Partnership for a Drug-Free America, and can therefore enhance the effects of Ambien.
Other Medications
The U.S. Library of Medicine recommends that patients taking Ambien avoid a few other types of medications. This includes the anti-fungal medication itraconazole and the anti-bacterial medication rifampin. Doctors prescribe itraconazole to treat fungal infections of the lung that can spread to the rest of the body as well as fungal infections affecting the finger and toe nails. Rifampin eliminates the bacteria that cause tuberculosis--an infection usually found in the lungs.