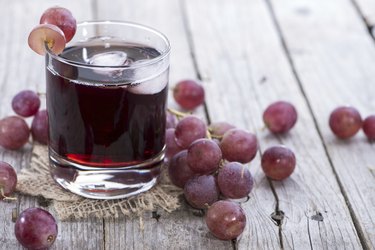 Recent research proves there are many potential health benefits associated with drinking any brand of 100 percent grape juice. Welch's grape juice products are made from 100 percent fruit juice and contain no added sugar or preservatives. Welch's offers three primary types of grape juice -- Concord, white and red grape juice.
Blood Pressure
According to Dr. Joseph Vita of the Boston University School of Medicine, drinking Welch's Concord grape juice may benefit your nighttime blood pressure and therefore provide you with better overall cardiovascular health. On Welch's website, Dr. Vita says your nocturnal blood pressure should go down at night, allowing an opportunity for your heart and blood vessels to rest. Results of a study conducted by Dr. Vita demonstrated a strong correlation between drinking Welch's grape juice and having a normal nocturnal blood pressure rate. Additionally, an article from the American Heart Association's "Circulation" journal states consuming the flavonoids present in the skin, seeds and stem of concord grapes could improve your coronary health.
Memory
A double-blind placebo test conducted by Dr. Robert Krikorian of the University of Cincinnati College of Medicine states drinking Concord grape juice may improve your memory, especially if you are an aging adult who is beginning to experience memory changes. The Welch's website reports the subjects of Dr. Krikorian's study who drank Concord grape juice for 12 weeks showed improvement in their ability to learn lists, retain lists and demonstrate greater spatial memory. According to the Psychology Today website, the antioxidants found in Concord grape juice also help your brain function by reducing the incidence of free radicals in your blood stream and promoting increased blood flow to your brain.
Weight Management
According to the data collected by the National Health and Nutrition Examination Survey between 1999 and 2004, those who drink 100 percent fruit juice, including grape juice, possess a lower mean body mass index, smaller waistline and lower insulin resistance, according to Welch's research news website. A possible link between drinking 100 percent Welch's grape juice and staying fit may provide consumers with a reduced risk of suffering obesity and metabolic diseases, such as heart disease, stroke or diabetes. The American Academy of Pediatrics cautions against the over-consumption of 100 percent fruit juice. It recommends children 1 to 6 years old should not consume more than 4 to 6 oz. of 100 percent fruit juice per day, and those older than 6 should not consume more than 8 to 12 oz. ounces of juice per day to reduce the risk of obesity.