Tubal ligation is preferred by women because of its effectiveness and convenience. It lacks the side effects associated with temporary birth control methods. This procedure is considered a permanent, although sometimes reversible, highly effective method of contraception. It may be performed after a C-section, while the patient is still anesthetized, or laparoscopically, which means through small abdominal incisions, as a separate procedure. The surgery requires a general anesthetic, or a spinal or epidural anesthetic, and entails blocking or severing the fallopian tubes. In most cases, the surgery goes smoothly, and there are no significant side effects. However, no surgery is without risks, and some women have experienced side effects.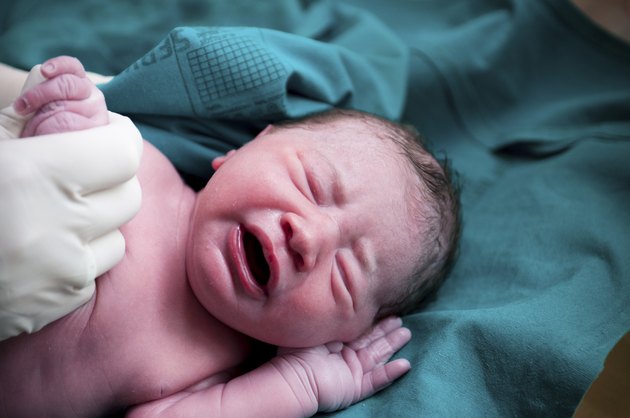 Risks
Every surgery involves risks, including pain, bleeding and infection. Major complications of tubal ligation are uncommon but may include heavy blood loss, complications with general anesthesia, such as reactions to medications, injury to major organs or blood vessels and the need for a laparotomy, or a larger incision, during the surgery.
Long-term risks include incomplete closure of the tubes, which could result in future pregnancy. This affects approximately 1 in 200 women. Furthermore, the fallopian tubes may eventually reconnect in approximately 1 percent of women. According to the Centers for Disease Control and Prevention, if a pregnancy does occur, the chance that it will be ectopic, that is, in a fallopian tube instead of the uterus, is approximately 7 in 1,000.
Side Effects
Side effects during recovery from the procedure include cramps, discharge, pain at the wound site, bloating, sharp pains in the neck or shoulder, which are caused by gas put into the abdomen during the procedure, bruising around the wound, lethargy, and general discomfort. Some women have reported symptoms of a condition called Post Tubal Ligation Syndrome, or PTLS.
Post Tubal Ligation Syndrome
The existence of PTLS is still in debate, but it may be caused by a lack of blood flow to the fallopian tubes, and it may be associated with the following side effects: severe hormone imbalance and shrinkage of the ovaries; increased risk of heart disease; osteoporosis; abnormal uterine bleeding and thickening of the uterine walls; premenstrual syndrome, or PMS; endometriosis, which is when the lining of the uterus grows outside the uterus; and severe pelvic adhesions, or internal scar tissue; uterine prolapse; and decreased ability to lactate.
Patients have also reported a variety of other side effects, which are uncommon and may or may not be linked to the procedure: hot and cold flashes, night sweats, and chills; rapid heartbeat; mood swings, anxiety, and depression; interrupted sleep; loss of libido; vaginal changes, including itching and dryness; fatigue and body aches; difficulty concentrating; incontinence; gastrointestinal complaints; new or worsening allergies; weight gain; abnormal sensations, including itching and pain; change in body odor; lightheadedness and loss of balance; tingling in the extremities; ovarian or tubal cysts; breast tenderness; and hair loss or thinning, or an increase in facial hair. Most women are satisfied with the procedure, but each decision must be considered carefully, especially if the procedure is scheduled at the time of a C-section. Some women elect to have the procedure then, because it spares them a separate surgery, but they need to be certain they do not wish to have any more children.