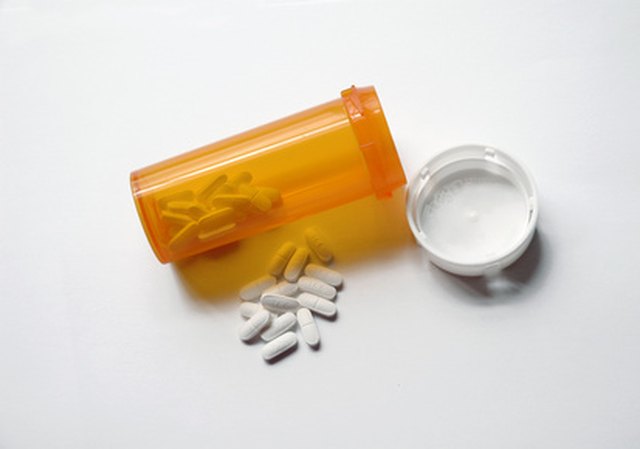 Lexapro is the trade name for the medication escitalopram. Lexapro is indicated for the treatment of major depressive disorder and generalized anxiety disorder. Lexapro works by increasing the overall availability of the neurotransmitter serotonin. Lexapro was approved by the U.S. Food and Drug Administration in 2002 and has been studied extensively in clinical trials and post-marketing research. Lexapro has proven generally safe and effective, but patients may experience several negative effects from discontinuation. Withdrawal symptoms, also known as discontinuation syndrome can be exacerbated when patients stop taking Lexapro abruptly.
Mood- and Sleep-related Effects
Patients who stop taking Lexapro may experience several mood and sleep-related symptoms. In the August 2006 issue of "American Family Physician," researcher Christopher Warner and associates stated that Lexapro and other traditional selective serotonin reuptake inhibitors caused several distinct mood-related withdrawal symptoms. These include aggression, irritability, agitation, anxiety and rebound depression. Sleep problems when stopping Lexapro have included nightmares and insomnia, the inability to fall asleep and stay asleep. The authors also stated that most withdrawal symptoms are more severe when the patient was taking antidepressants for longer periods of time. General withdrawal symptoms usually take two days to fully manifest and often subside within five days.
Psychomotor Effects
Negative psychomotor effects may also arise during the withdrawal period after stopping Lexapro. According to Greg Mulhauser, Ph.D. on Counselling Resource.com, patients may experience dizziness and sensory disturbances including electric shock-like sensations. This is also referred to as "brain zaps." The Warner study also states that patients may experience lightheadedness, loss of balance, spinning sensations, changes in vision, pins and needles sensations and numbness. Other psychomotor effects include tremor, changes in muscle tone and reflexes, and restlessness. According to mental health website Healthy Place, patients should be monitored for all withdrawal symptoms and doses should be reduced slowly in order to prevent any serious effects.
Gastrointestinal and General Effects
Patients may also experience gastrointestinal disturbances and other negative general effects during the discontinuation period. The study by Warner and associates stated that medications in the same class as Lexapro may cause several gastrointestinal disturbances including abdominal cramping and pain, changes in appetite, diarrhea, nausea and vomiting. Other general symptoms may include headache, feeling tired and flu-like symptoms. Patients should inform their physician well in advance before stopping Lexapro so that a dose reduction schedule can be set up. Patients should also inform their physician before switching over to a new antidepressant in order to prevent any negative drug interactions.