If you're over 300 pounds, you can approach weight loss the same way as someone who has less to lose, but it's critical to consult your physician first. Being overweight puts a significant amount of stress on your heart, muscles and joints, so protect your health and get a complete checkup before you start. Your doctor may recommend a specific low-calorie diet plan or refer you to another professional who can help, such as a registered dietitian.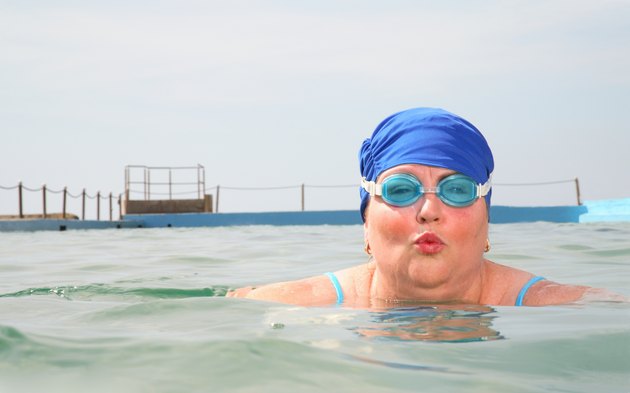 Develop a Weight Loss Mindset
Success over the long run hinges on your motivation for losing weight and your emotional well-being. Many people overeat due to emotional issues such as anxiety and depression, notes the American Psychological Association. If you have a hard time sticking with a diet, a trained psychologist can help you identify emotional triggers and make behavioral changes.
Visiting a medical professional is essential to be sure your weight hasn't created health concerns that limit dietary choices, restrict activity or require more immediate action than a typical caloric-restricted diet. Your doctor may consider medications, prescribe a medically supervised very-low-calorie diet or recommend bariatric surgery.
Before starting a diet, talk to the people you live with and enlist their support for stocking the pantry with healthy foods. Keeping a journal of everything you consume is a good way to stay aware of caloric intake. Also write down when you eat, how you felt and any stressful events. When you review these notes, you'll see eating patterns, and then you can begin to change them by substituting other behaviors for eating. For example, the University of Rochester suggests taking a walk when you're stressed to replace grabbing a high-calorie snack.
Calorie Goals for Weight Loss
Before you can set a daily calorie goal for weight loss, you'll need to determine the number of calories you normally consume. If you're not already keeping a journal, record everything you eat and drink -- and the calories in each item -- for several days or up to a week. Once you tally daily calories, it's time to adjust your intake to reach two goals. The first goal is eliminating enough daily calories to lose weight gradually. The second is lowering your daily caloric intake to a level that's optimal for maintaining a healthy weight.
It takes an energy deficit of 3,500 calories to lose 1 pound, so eliminating 500 to 1,000 calories daily theoretically results in weight loss at the rate of 1 to 2 pounds weekly. The optimal number of calories to maintain a healthy weight is determined by age, gender and activity level. The recommended intake for men is 2,000 to 3,000 calories daily, according to the U.S. Department of Agriculture. The range to maintain a healthy weight for women is 1,600 to 2,400 calories daily. When you're trying to lose weight -- especially if you're not very active -- aim for the lower number of calories. Remember that your body needs 1,200 to 1,400 calories to keep your heart and organs working. Never consume fewer than 800 calories daily unless it's under a doctor's supervision.
Alternatively, you can figure out your specific daily calorie needs; this is where a dietitian can help, by designing a calorie and meal plan just for you. Another option is to use Iowa State University's online calculator, which determines a maintenance calorie goal after you plug in your age, gender, height, weight and activity level. Then subtract 500 calories from maintenance calories to lose a pound a week.
Lose Weight With a Balanced Diet
Planning a healthy menu means eliminating high-calorie foods while providing a variety of foods that ensure the right balance of nutrients. Depending on your current eating habits, you may be able to cut 500 to 1,000 calories daily by getting rid of sweets, caloric beverages and high-fat snacks. For example, a 16-ounce can of sweetened cola has 207 calories, a 16-ounce beer has 204 calories and a slice of apple pie supplies 296 calories.
Create a balanced diet without a lot of measuring and effort by using the U.S. Department of Agriculture's MyPlate program. Envision a plate that's half filled with veggies and fruits. The other half is divided into two equal parts. One part holds lean protein, which includes fish, beans, skinless poultry and lean meats such as top round beef, extra-lean ground beef and pork loin, notes the University of Michigan. The other quarter of the plate is for grains, preferably whole grains. If each meal follows this scheme, you're on the way to portion control and a balanced diet.
You'll get about 1,600 calories daily if you eat five servings of grains, 2 cups of veggies, 1 1/2 cups of fruit, 3 cups of fat-free dairy products, 5 ounces of lean protein and 5 teaspoons of oil, according to MyPlate.
Exercise for Weight Loss and Health
Walking is a gentle exercise that burns calories and strengthens bones and muscles. Begin at a pace that's comfortable for you, whether that means slowly walking around the living room for five minutes or a leisurely stroll outside for 30 minutes or longer. Then increase the pace and the amount of time spent walking each day. If you begin to feel pain, stop exercising and talk to your doctor.
If walking is too stressful, you can stretch muscles, build strength and boost your heart rate while sitting in a hard chair and doing exercises. The Dartmouth-Hitchcock Norris Cotton Cancer Center recommends exercises such as raising and lowering arms, straightening then lowering one leg at a time, and holding a light ball between your hands as your raise your arms and then slowly wave them from side to side. Start doing these exercises for five minutes and gradually increase the time.
Exercising in a pool is another great option. Water's natural buoyancy supports your body and makes it easier to exercise without stressing joints. At the same time, water offers resistance to movement, which strengthen muscles and boosts heart rate. While you can do this alone, many hospitals and recreational centers offer structured aquatic therapy programs.