Packed with nutritious compounds and natural caffeine, tea can serve as a nutritious and healthy alternative for coffee, sugary juice and soft drinks. Enjoy the mild flavors plain or sweetened and at hot or cold temperatures. However, drinking hot tea has a few minor advantages when compared to cold tea.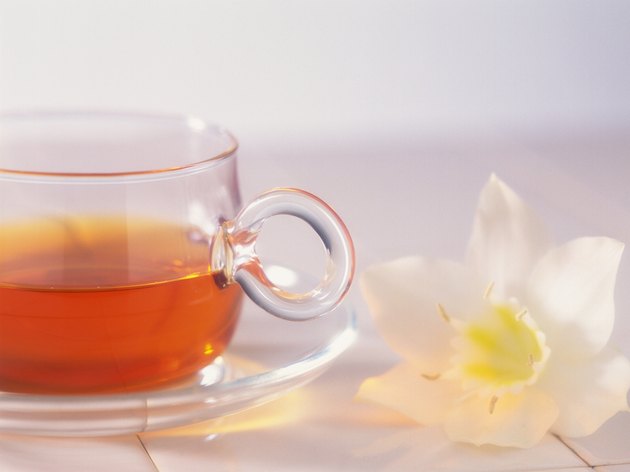 More Antioxidants
During the steeping process of making tea, the hot water infuses into the tea leaves and draws their flavorful and nutritious compounds into the water. These nutritional compounds include flavanoids, which are natural compound with antioxidant properties. The Amazing Green Tea website explains that these antioxidants contained in tea are quite reactive, which means that they oxidize and disappear quickly upon exposure to oxygen in the air. Drinking hot tea fresh from the kettle allows for maximum antioxidant content. If you allow the tea to sit in an open container, the oxygen will slowly deplete the tea's antioxidant supply. Since antioxidants are extremely beneficial for the body, drinking hot tea is more beneficial than drinking cold tea. As explained by the Tea Association of the USA, the antioxidants in hot tea reduce the risk of cardiovascular disease, promote good bone health, support the immune system and lower the risk of certain cancers.
Better Flavor
When enjoyed at hot temperatures, tea packs a stronger aroma and flavor. In addition to this simple fact, the human body's tongue also enjoys these hot flavors more than cold flavors. As explained by the Medical News Today website, your taste buds have a temperature sensitivity that triggers any time foods or beverages enter the mouth. According to the website, this temperature trigger is much more sensitive to warm temperatures than cold temperatures. Once the temperature gauge reacts to the temperature, it sends electrical signals to the brain regarding the overall "taste" of the food. When compared to cold tea, the consumption of hot tea results in greater taste bud sensitivity and stronger electrical signals to the brain. As the brain receives these strong signals, it interprets the hot tea as flavorful, enjoyable and sweet.
Temperature Considerations
Although beverage temperatures do not permanently affect the temperature of the body, hot and cold beverages can temporarily increase or decrease body temperature. In fact, the Medic8 website recommends drinking cool beverages in hot temperatures and warm beverages in cold temperatures to avoid temperature-related health problems. Additionally, taste preferences generally change with outside temperatures. For example, most people crave warm beverages during the winter and chilled beverages during the hot summer months. Although choosing your preferred type of tea based on temperature does not rely on scientific studies, it generally provides a great sense of enjoyment.