Tea has a long history in the United States as well as internationally, with its origins in China. Whether an inky black tea served with a cube of sugar and a splash of milk, or a delicately flavored herbal tea, tea is a healthy beverage if you are careful about how much added sugar and cream you use. To hydrate with tea instead of water, consider choosing a decaffeinated tea.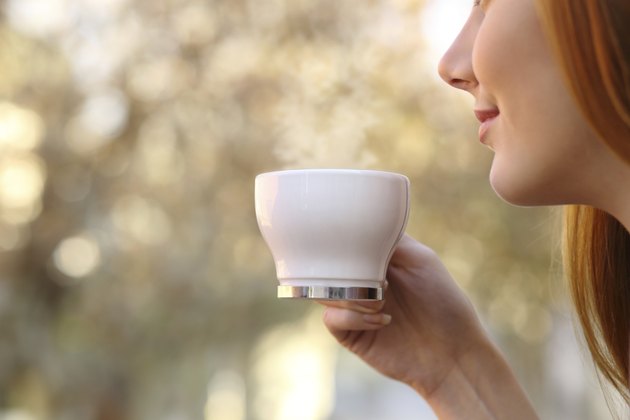 Hydration and Tea
Staying well hydrated is key for good health, because it's essential for basic bodily functions. Without enough water, people would not survive longer than a few days. However, consuming more than 8 fully-caffeinated cups of tea per day can lead to a high caffeine intake if your tea is not caffeine-free or decaffeinated. High caffeine consumption can cause jitters, anxiety, an increased heart rate, dehydration and trouble sleeping. There are numerous types of tea, ranging from caffeinated and strong-tasting black teas, to naturally caffeine-free teas, including herbal and rooibos teas.
Antioxidant Content
Teas produced from the Camellia sinesis plant contain catechins, which are powerful natural antioxidants. Antioxidants protect your body from damage from free radicals, produced during metabolism, and environmental toxins. A 2005 publication of "The American Journal of Clinical Nutrition" included a study that found that catechins, present in green tea, can help reduce body fat levels in humans. Scientists concluded that drinking catechin-rich tea could help protect or prevent certain health complications, including obesity.
Added Ingredients
While teas are naturally low in calories, many people add sugar or milk to their tea to improve the taste. Adding either will increase the calorie content of the drink, making it less healthy and potentially contributing to weight gain. A 1-ounce of serving of 2 percent milk has 15 calories, and each teaspoon of sugar contains 16 calories. Limit your total calorie intake of added sugar to 100 calories per day for women, and 150 calories for men, according to recommendations from The American Heart Association. Added sugar and a diet high in sugar contributes to obesity, as refined sugar is considered "empty" calories, states the AHA.
Making Smart Choices
MedlinePlus recommends that you consume at least six to eight 8-ounce glasses of liquid each day. While water is suggested as a primary source of hydration, other fluids, such as tea, can also be consumed to rehydrate the body. MedlinePlus recommends limiting the amount of caffeinated beverages you drink. Almost all teas come from the Camellia sinensis plant, including white, green, black and Oolong teas, and they all naturally contain caffeine. Herbal teas, made from herbs, flowers and fruit, including rooibos tea -- also known as red tea -- are naturally caffeine-free.