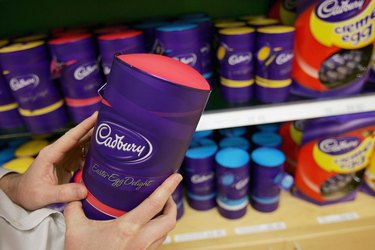 Cadbury Dairy Milk bars were launched in the UK in 1905. According to Cadbury, the recipe was created by George Cadbury Jr. during his attempts to rival Swiss chocolate. By 1913 Dairy Milk became Cadbury's best seller and it still is today. In 1988, Hershey Foods Corporation became licensed to produce and sell Cadbury's products in the U.S. Dairy Milk bars come in a distinctive purple wrapper and they are the basis of other Cadbury products, such as fruit and nut, roast almond and Caramello bars.
A 39 g Dairy Milk bar as sold in the U.S. provides you with 200 calories. Half of these calories come from fat. A bar of Dairy Milk contains 11 g of fat -- of which 7 g is saturated fat, 23 g of carbohydrate -- of which 22 g is sugar, 3 g of protein, less than 1 g of fiber and 40 mg of sodium.
A bar of Dairy Milk will provide you with 17 percent of your daily fat intake and 35 percent of your daily saturated fat intake. Chocolate should be included in your diet as a treat rather than a food you would eat on a regular basis due to its high level of fat and saturated fat.
According to Cadbury, Dairy Milk chocolate is made from full cream milk, sugar, cocoa mass, cocoa butter, milk solids, vegetable fat, emulsifiers and flavors. Dairy Milk bars are suitable for those wishing to avoid eggs, peanuts, salt, sulphites and sesame in their diets. Dairy Milk is suitable for vegetarians but not for vegans or those wishing to avoid milk, nuts, soya, gluten and wheat.
Dairy Milk is considered a milk chocolate. According to Hershey's, milk chocolate is defined by the U.S. Food and Drug Administration as being a combination of chocolate liquor, cocoa butter, sugar and milk or cream. At least 10 percent of milk chocolate must be chocolate liquor and 12 percent must be milk ingredients.
According to the Hershey Center for Health and Nutrition, cocoa, the main ingredient in chocolate contains antioxidants and flavonols, which are both beneficial to our health. The center claims that if you have small pieces of chocolate on a regular basis, you are less likely to experience cravings and as a result are less likely to binge on unhealthy foods.