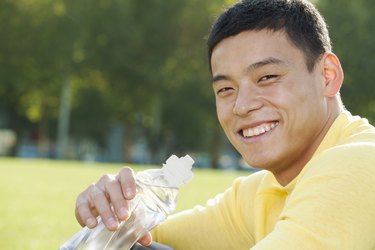 Dasani flavored water, a Coca-Cola product, contains no calories, fat or sugar. Unlike other brands of flavored water, it also does not provide significant amounts of vitamins or minerals. Although this product comes in a variety of flavors, each contains the same nutrition facts.
Flavors and Serving Size
Dasani flavored water is available in four flavors, including lemon, strawberry, grape and raspberry. Each flavor is only available in 20-oz. bottles, according to the official Dasani website. The recommended serving size is 8 oz., which means each 20-oz. bottle contains 2.5 serving per bottle.
Nutrition Facts
Dasani flavored waters are sweetened with aspartame or sucralose. These sugar substitutes provide sweetness without calories, fat or sugar. Because of this, Dasani flavored water does not contain any calories, fat, carbohydrates, sugar, fiber or protein. Each 8-oz. serving has 29 mg of sodium, which is approximately 1 percent the recommended daily value, based on a diet of 2,000 calories. Dasani flavored water does not have significant amounts of vitamins, minerals or other nutrients.
Ingredients
Dasani flavored water contains natural flavors, citric acid, phosphoric acid, acesulfame potassium, aspartame and sucralose, all of which provide the beverage with its flavor, according to the manufacturer's website. The ingredient sodium citrate acts as a buffering agent and regulates tartness and acidity. The water also contains the preservatives potassium sorbate, potassium benzoate and calcium disodium EDTA, which the manufacturer says keep the beverage fresh and preserve its taste.
Benefits of Water
Drinking water has many health benefits. Water helps your body maintain an appropriate body temperature, lubricates joins and provides cushion to the tissues and organs of the body. It also helps dissolve nutrients and carries them to the cells of the body, as well as helps to flush toxins out of the body. Most adults should aim to drink at least 8 or 9 cups of water each day, according to MayoClinic.com. Although these benefits come from drinking any type of water, those who do not enjoy the taste of plain water may find it easier to get enough when drinking flavored waters.
Considerations
Buying this product on a regular basis may get expensive. Consider making your own flavored water at home by squeezing juice from fresh fruit into distilled or even plain tap water. This may not only produce a similar tasting beverage, but also provide you slightly more vitamins and minerals than Dasani flavored water.