Pineapples are a sweet, tart fruit filled with highly beneficial nutrients. From pineapple upside-down cake to pineapple juice, there are many ways to eat this healthy fruit. Pineapple juice is even more beneficial when you process parts of the fruit that would otherwise be considered inedible, like its core and rind. Half a cup of fresh pineapple juice has over a third of the daily recommended amount of vitamin C for women — certainly a healthy way to start your day.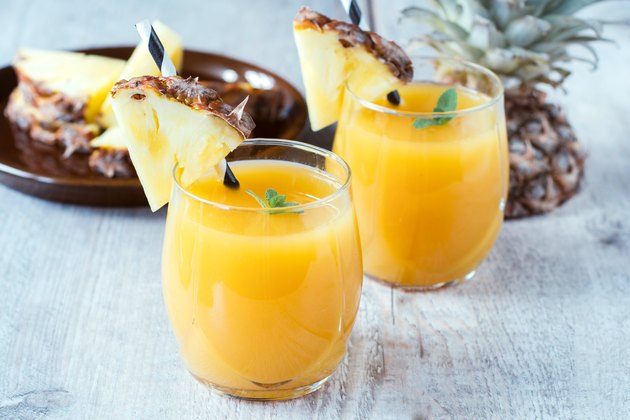 Pineapple juice benefits women through its rich vitamin C content and the enzyme bromelain. Vitamin C can improve bone and eye health in women, as well as the health of their infants, while bromelain can help resolve menstrual disorders and reduce bloating and pain during cycles.
Minerals and Vitamins in Pineapple
That there's such a wide variety of nutrients carried by this delicious fruit means that there are many benefits of pineapple juice for women. Nutrients can, however, vary between commercial products, especially those from concentrate.
It's always best to drink fresh juice when possible. In particular, the handbook recommends the use of ripe pineapples for juicing purposes. Juicing a whole pineapple yields about 71 to 76 percent of its weight, depending on the juicer you're using. In every 100 grams of fresh pineapple that you juice, you'll find quite a few vitamins, including vitamins A, C, E and K as well as several B-complex vitamins.
Pineapple juice also has various minerals, including calcium, copper, iron, magnesium, manganese, phosphorus, potassium and zinc. In addition to these minerals and vitamins in pineapple juice, you can also find fiber, protein and a protease called bromelain. Bromelain is an enzyme found in fibrous regions of the pineapple, such as the stem, skin and core.
Although pineapple juice is healthy, when you juice a fruit, you usually toss the pulp. Throwing away fruit pulp results in loss of certain nutrients. This is particularly the case for fiber.
A comparison of raw pineapple and different juices showed that fiber content went from an original amount of 1.4 grams for every 100 grams to between 0.1 and 0.7 grams, depending on the juice. If you're after foods with high soluble fiber content, you may want to choose whole fruits over juices. You'll always get more vitamins and minerals when eating raw fruit.
Health Benefits of Pineapple Juice