Your brain contains a number of chemicals called neurotransmitters that control your emotions, reactions, moods and even your physical movements. Your body synthesizes these chemicals naturally, but if it makes too much or too little of either one, your moods—and even your personality—may change.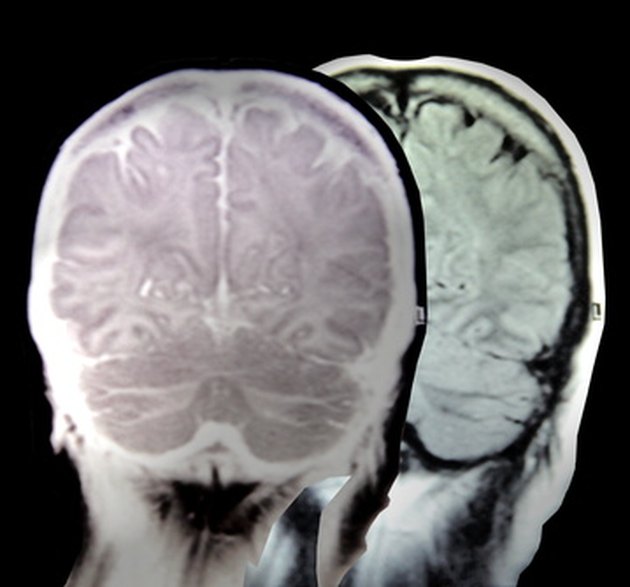 Identification: Serotonin
Serotonin is a brain chemical responsible for your feelings of health, happiness and mental well-being. According to Carol Hart, PhD, in "Secrets of Serotonin," low serotonin levels in the brain have been linked to depression, PMS, obsessive compulsive disorder, migraines, eating disorders and drug abuse. Your body produces serotonin as a result of natural stimuli, including the presence of the amino acid tryptophan and exercise. Hart notes that most anti-depressant medications work by increasing the amount of serotonin in your brain, as do some anti-migraine medicines and the weight-loss medication Meridia.
Identification: Dopamine
According to the University of Texas Addiction Science Research and Education Center, dopamine is the neurotransmitter responsible for controlling your ability to feel pain or experience pleasure, as well as control your physical movement. Drugs including cocaine and ecstasy cause your brain to flood with dopamine, giving you a sense of well-being and pleasure. People with Parkinson's Disease, on the other hand, have very little dopamine within their brains because the neurons needed to transmit the chemical have died off.
Lowering Serotonin
Your body cannot produce serotonin without an amino acid called tryptophan. According to John Worobey and Robin Kanarek in "Nutrition & Behavior: A Multidisciplinary Approach," tryptophan is "relatively scarce in protein," consisting of approximately 1 to 1.5 percent of most dietary proteins. Researchers in the 1970s and 1980s discovered that animals provided with high-protein meals demonstrated lowered tryptophan and serotonin levels, while animals fed high-carb diets demonstrated higher serotonin levels. A low-carb, high-protein diet, as a result, may help your body reduce its amount of serotonin naturally.
Lowering Dopamine
According to Dr. Eric Braverman in "The Edge Effect," people whose brains produce too much dopamine are often impulsive, reckless and driven to create situations that stimulate them mentally and physically. This can lead to violent, destructive or illegal behavior if left unchecked. In most cases, doctors use antipsychotic medications to reduce a patient's dopamine levels. In addition, two amino acids, tyrosine and phenylalanine, are necessary building blocks for dopamine, found in high-protein foods. Avoiding these foods — including chicken, turkey, chocolate, cottage cheese and eggs — may help diminish your body's natural dopamine levels.
Warning
You should never attempt to diagnose or treat your own mental illness. If you believe improper levels of serotonin or dopamine could be causing depression, mood swings or anxiety, see a doctor. A blood test will reveal your neurotransmitter levels and allow the doctor to properly diagnose your condition and prescribe the proper medication or lifestyle changes to help regulate your brain's neurotransmitter levels.
Is This an Emergency?
If you are experiencing serious medical symptoms, seek emergency treatment immediately.