You may never have heard of mangosteen, a small round fruit produced by a tropical tree (Garcinia mangostana) native to Southeast Asia. Unrelated to the common mango, the mangosteen fruit has been a part of traditional herbal medicine for centuries, recommended for skin infections, intestinal problems and other ailments. Modern research suggests that mangosteen and tea brewed from the fruit contain compounds that may have significant health benefits.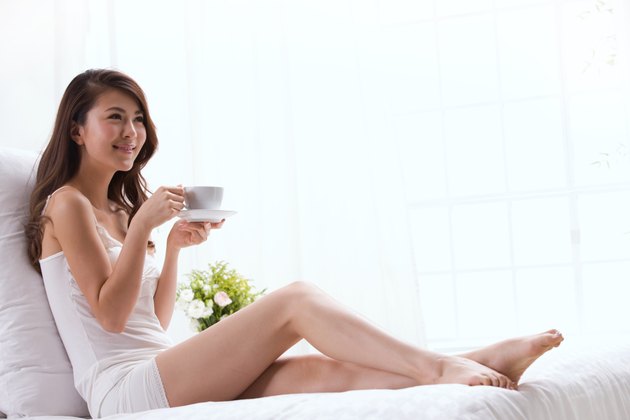 Anti-Cancer Properties
Memorial Sloan-Kettering Cancer Center indicates that compounds in mangosteen called xanthones have anti-cancer properties, blocking the growth of several types of cultured cancer cells, including liver cancer and leukemia cells. It also reports that extracts from mangosteen stops division of breast cancer cells in the laboratory and causes them to die through a process called apoptosis. A review paper published in the December 2011 issue of "Current Molecular Medicine" reports that xanthones in mangosteen also have properties that may help protect you from carcinogenic compounds, along with their anti-cancer activity. The authors conclude that mangosteen components have significant potential as anticancer agents, although clinical trials with human subjects are still needed.
Preventing Infection
The Cancer Center also reports that mangosteen compounds can block growth of bacteria and fungi and could help prevent different types of infections. This possibility is supported by several research studies, including one published in the July 2003 issue of "Chemical and Pharmaceutical Bulletin" in which researchers tested xanthones from mangosteen and found they can stop growth of tuberculosis bacteria, at least in the laboratory. Another study published in July 2013 in "BMC Complementary and Alternative Medicine" found that mangosteen xanthones blocked bacteria called leptospires from growing and, when combined with penicillin, enhanced the effectiveness of the antibiotic. These promising results still need confirmation in studies of infection in human subjects.
Other Possible Benefits
The Cancer Center also highlights other potential benefits from mangosteen, including possible protection from allergic reactions and other conditions that involve inflammation. Mangosteen xanthones block cellular receptors for histamine and serotonin, two chemicals your body produces that mediate swelling, redness, pain or itching that can develop during inflammation. Mangosteen components might also help improve oral health, according to a clinical study published in the October 2008 issue of "Complementary Therapies in Medicine" in which subjects undergoing periodontal treatments who used an oral gel containing mangosteen extract experienced improved periodontal health, compared to controls.
Making Tea
You can purchase mangosteen fruit at some specialty food stores or dried mangosteen rind as a supplement at health-food stores. Make mangosteen tea from fresh fruit by cutting it to expose the inner parts, then separating the rind from the flesh, which you can consume. To make tea, cut up and steep the rind in boiling water until the water cools, or add dried rind to boiling water and drink when cool. While some brands of prepared tea also contain mangosteen, the amount varies, so it's unknown whether these would be effective. Mangosteen is generally considered safe without significant side effects, although it might interact with certain medicines. Talk to your doctor about consuming mangosteen tea to decide if it might be helpful for you.