Apple seeds don't have any proven benefits in conventional medicine. On the contrary, apple seeds are actually poisonous if eaten in large quantities. The active ingredient in apple seeds as well as apricot, cherry and peach pits is amygdalin, a mixture of cyanide and sugar that breaks down into hydrogen cyanide when chewed. Some alternative medicine practitioners consider amygdalin a cancer-fighting agent, but there is no clinical proof of this benefit. Do not ingest apple seeds for their supposed health benefits without your doctor's approval and supervision.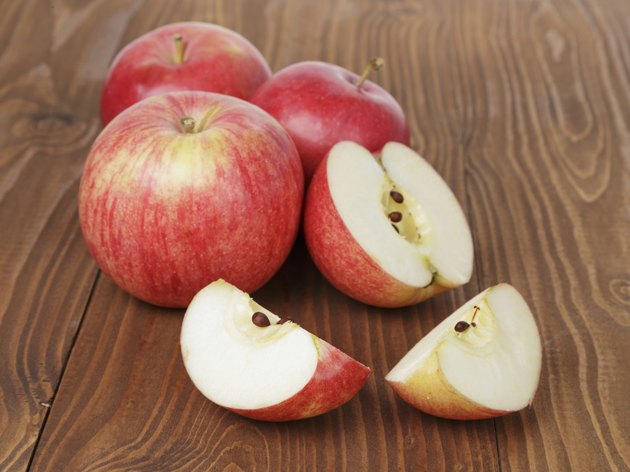 Ingredients
Apple seeds contain amygdalin, the same ingredient extracted from apricot pits to make the controversial anti-cancer medicine laetrile. Amygdalin is also called vitamin B-17 by its advocates, who designated it a vitamin in an effort to avoid regulation of laetrile by the U.S. Food and Drug Administration as a drug, the Tennessee Poison Control Center explains. Laetrile, banned in the United States, is a semi-synthetic version of amygdalin. Apple seeds also contain a number of unsaturated fatty acids as well as the minerals calcium, iron, magnesium, phosphorus and potassium.
Risks
When consumed in very large amounts, cyanide in apple seeds interferes with your body's ability to carry oxygen in red blood cells, causing death by asphyxiation. Symptoms of cyanide poisoning, one of the quickest poisoning agents, include rapid breathing, headache, nausea, vomiting, dizziness, weakness and rapid or very slow heartbeat. You could develop seizures, lose consciousness or stop breathing altogether.
Absorption Factors
The apple seed has a tough protective outer layer that keeps amygdalin inside it unless you chew it or otherwise break the seed down before eating. Unless you chew the seeds, they pass harmlessly through your intestinal tract and pass unchanged in the stool. This hard outer coating prevents breakdown in animal intestines, which allows the intact apple seeds to grow into new apple trees when they pass in animal stool.
Proof of Benefits
Amygdalin has not been proven in any well-designed clinical trials to reduce the risk of developing cancer or to cure existing cancer. A British review of available studies published by researchers from the Universities of Exeter and Plymouth in the June 2007 issue of "Supportive Care in Cancer" found no benefit to treating cancer with laetrile. In the May-June 1991 issue of "CA: A Journal for Clinicians," amygdalin was found to cause life-threatening toxicity in some cases.