Getting older does not necessarily mean you will struggle with healthy eating and fitness, although eating a nutritionally balanced diet and performing consistent physical activities are vital. The American College of Sports Medicine points out that physical activity lowers your risk of high blood pressure, type 2 diabetes, certain cancers, heart disease and even depression. At age 58, you are young enough to exercise regularly and reach or maintain a healthy weight through calorie control and good food choices. Before beginning or changing your personal exercise or diet program, get your doctor's approval.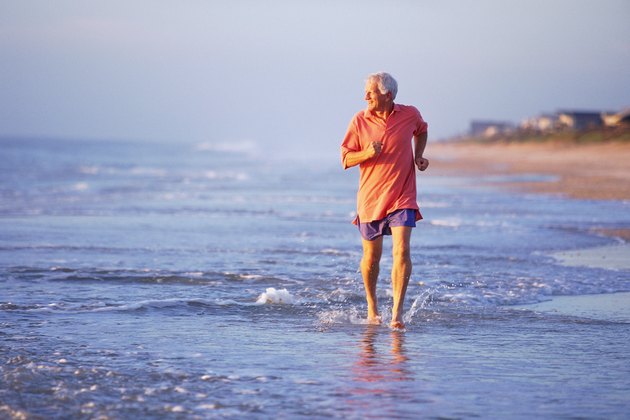 Healthy Diet
Step 1
Analyze your current diet in terms of caloric intake by recording your food intake for one week. As you age, your caloric requirements change slightly. According to the Dietary Guidelines for Americans, a female over the age of 51 needs 1600 calories if she is sedentary, 1800 calories if moderately active and up to 2200 if active. A male the same age needs 2000 calories if sedentary, between 2200 and 2400 if moderately active and between 2400 to 2800 if active. A sedentary person is one who performs no regular exercise; moderately active means moving the equivalent of 1 1/2 to 3 miles a day; and active is walking, running or biking the equivalent of more than 3 miles a day.
Step 2
Adjust your caloric level appropriately so you can achieve or maintain a healthy weight for your age. Use an online weight chart or ask your doctor for an appropriate weight range. To lose weight, reduce your consumption of unnecessary foods such as crackers, ice cream and chips. Replace a 218-calorie candy bar with a high-fiber apple and save 146 calories. For dinner, avoid the 364-calorie piece of fried chicken breast and eat a roasted drumstick for only 76 calories.
Step 3
Plan your meals weekly. Even though you need fewer calories, you still need the same amount of nutrients, according to the National Institutes of Health. Breakfast should include low-calorie proteins such as turkey, vegetarian bacon or egg whites. Whole grains are good for your digestion, which can slow as you age. Eat shredded cereals, whole-wheat breads, brown rice or grits. Choose lean proteins and avoid high in saturated fat red meats. Eat a variety of fruits, low-calorie dairy and vegetables throughout the day.
Healthy Exercise
Step 1
Set fitness goals in accordance with the American College of Sports Medicine. Adults under the age of 65 should aim for performing "moderately intense" cardiovascular exercise five times a week for 30 minutes, or "vigorously intense" exercise three times a week for 20 minutes. Set your personal goals in small increments and schedule 10 minutes of exercise a day to begin.
Step 2
Find an aerobic exercise or activity you enjoy, such as walking, riding a recumbent bike or swimming. Be mindful of balance and joint issues if you choose to run or ride an outdoor bike. Consistent exercise that you enjoy is more effective for fitness maintenance and weight control than working out occasionally. The Centers for Disease Control and Prevention says that keeping physically active can help you keep your strength and stamina as you age.
Step 3
Use light weights, resistance tubing or weight machines at your gym to strength train. Strength training improves your muscular strength and bone density, and reduces joint and back pain, which can help you perform daily activities more easily. Use an exercise ball to strengthen your core muscles and balance. Strength train at least two days a week.
Tip
Meet with a personal trainer to developed a personalized exercise plan.
Ask a friend or family member to exercise with you.
Limit the number of times you eat at restaurants.
Warning
Consult with your doctor before starting an exercise program.
Stop exercising if you feel faint or short of breath.