Vitamin and mineral consumption is important at any age, and older adults face unique difficulties in maintaining appropriate nutrient levels. Medications and chronic medical conditions may diminish your ability to absorb certain vitamins from even vitamin-rich foods, according to the website HealthTree. In general, older adults tend to be deficient in vitamins A, C, D, E and K. Taking a daily multivitamin with these compounds is beneficial to your health. Your doctor can help you choose the best supplement for your lifestyle.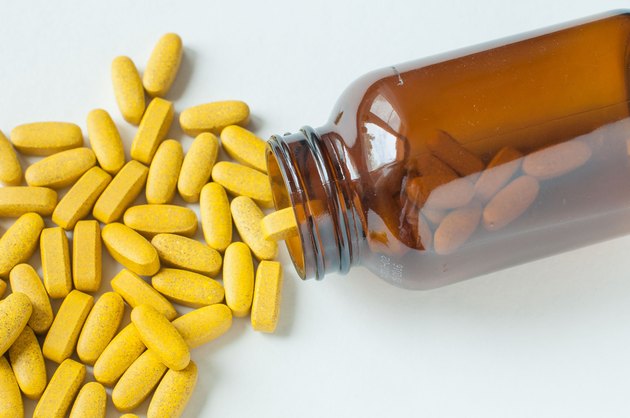 Kirkland Signature Mature Multi 50+
Kirkland's Signature Mature Multi 50+ vitamin is recommended for seniors by ConsumerSearch. This brand of multivitamin is available at Costco stores and online. The multivitamin contains a large dose of Vitamin D, which helps prevent osteoporosis. It also features vitamin B12, a compound that seniors lose the ability to absorb efficiently. Kirkland's vitamins are inexpensive and provide a balanced source of important vitamins and minerals tailored to older adults' physical needs.
One A Day
One A Day offers separate multivitamins for senior men and women. These are tailored to each gender's unique nutritional needs. The Women's 50+ Advantage multivitamin features calcium, magnesium, folic acid and vitamins A, C, D and E. The Men's 50+ Advantage formula contains B vitamins, zinc, chromium, calcium and vitamins A, C, D and E. Both multivitamins have a gingko supplement, which may improve memory function.
Centrum Silver
Centrum Silver is a multivitamin with age-adjusted doses of nutrients for people aged 50 years and older. It contains vitamins A, B6, B12, C, D, E and K in addition to folic acid, calcium, zinc and other minerals. Centrum Silver is fortified with antioxidants that may fight cellular effects of aging. Centrum Silver multivitamins are available in regular tablets as well as chewable pills.
Generic Brands
While some vitamins have higher name recognition, most department and health food stores carry generic brands of vitamins designed for older adults. These generics often contain similar doses of vitamins and minerals to name brand products. Check the label to determine if a generic brand will be an acceptable substitute. Look for high levels of vitamins A, C, D, E and K. B vitamins, including niacin, thiamine, folic acid, riboflavin, B6 and B12 are also important.