As you might gather from the name, digestive enzymes help your body break down, or digest, food. While many people supplement their diet with these enzymes as a treatment for pain, prevention of cancer or indigestion, there's very little evidence to support their use as weight-loss aids. Instead of popping a pill that doesn't work, you'll be better off dropping those unwanted pounds through diet and exercise. Consult your doctor before adding dietary supplements such as digestive enzymes to your daily routine.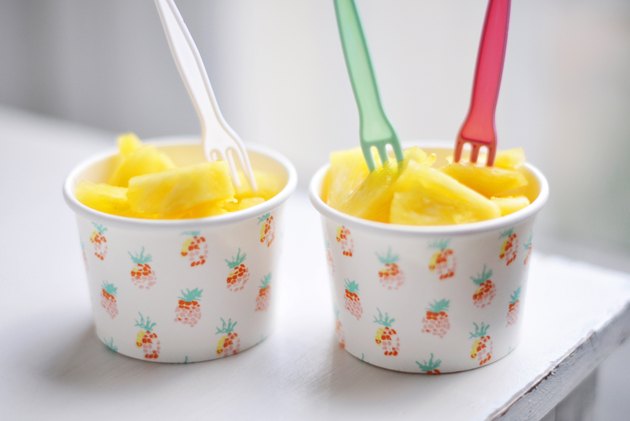 Digestive Enzymes to Reduce Bloating
Although it may not affect the number on the scale, bloating can cause abdominal distention, which may make your clothes feel tight. Two types of digestive enzymes may help improve bloating and reduce discomfort -- lactase, which helps digest milk sugar or lactose, and alpha-galactosidase, which is an enzyme that helps break down the fiber in foods such as beans and cabbage. Neither of these enzymes are helpful for weight loss, however.
A 2007 study published in Digestive Diseases and Science investigated the effect of alpha-galactosidase on bloating and gas in a group of healthy volunteers. The study found that the enzyme was effective at reducing gas and bloating after the consumption of a serving of beans.
Some strategies that help fight bloat can help with weight loss, too. Eating slowly and chewing your food well may aid digestion while providing enough time for your brain to receive the signal that you're full, to help you eat less.
Natural Digestive Enzymes in Pineapple and Papaya
Papaya contains the enzyme papain, and pineapple contains bromelain, both of which aid in the digestion of protein. When part of a reduced-calorie diet, these enzyme-containing fruits may help you in your weight-loss efforts. A 2010 study published in Nutrition found that dieters who ate more fruit on their calorie-controlled diet lost more weight.
But it's not the enzymes in the fruit that help with your weight loss; both fruits are also low in calories and a good source of fiber. A 1-cup serving of papaya has 62 calories and 2.5 grams of fiber, and the same serving of pineapple has 83 calories and 2.3 grams of fiber. Eating more fiber-rich foods such as papaya and pineapple is as beneficial at promoting weight loss as a complicated diet, according to a 2015 study published in the Annals of Internal Medicine. Fiber in foods helps you fill up fast and keeps you feeling full after you eat, helping you eat less.
Health Considerations and Warnings
Although sold over-the-counter, there are possible ill effects and interactions with the use of digestive enzymes. Potential side effects of these supplements include abdominal distress, diarrhea or an allergic reaction. Memorial Sloan Kettering Cancer Center warns that if you have a bleeding disorder, a damaged liver or pregnant or nursing, you should first consult your doctor before starting digestive enzymes. There are also potential interactions with medications including blood thinners, antibiotics and sedatives. One enzyme, called pancreatin, may interfere with the body's ability to absorb the B-vitamin folate.
Diet and Exercise for Weight Loss
While many supplements claim they can help burn fat or boost metabolism, it's never that simple. The only way to truly lose weight is to create a calorie deficit by eating less and moving more. Since a pound of fat contains 3,500 calories, you need to create a 500-calorie daily deficit to lose 1 pound in a week. You can cut calories by filling your diet with more low-calorie nutrient dense foods like papaya and pineapple, as well as other fruits, vegetables, whole grains and lean sources of protein. Burn calories by adding activity to your day such as a walk around your neighborhood or an exercise class.