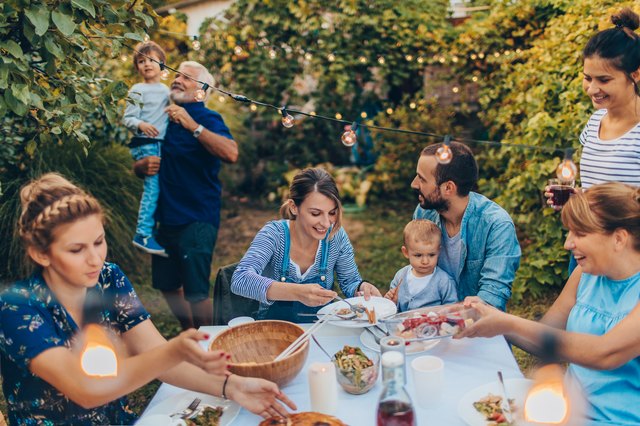 The gastrointestinal tract includes your mouth, stomach, small intestines and large intestines. Approximately 92 to 97 percent of the nutrients consumed, which includes carbohydrates, protein, fat, fluid, vitamins and minerals, are absorbed through the GI tract, says Sylvia Escott-Stump, a registered dietitian and published author. Digestion and absorption of foods begins in your mouth and extends down through your colon, and each area is responsible for breaking down foods with a variety of enzymes and absorbing nutrients.
Nutrients include protein, carbohydrates, fat, water, vitamins and minerals. Protein is broken down into amino acids which give all cells in the body their structure. Carbohydrates digest into simple sugar for energy. Fat breaks down into fatty acids and glycerol, which can also be used as energy sources.
Vitamins and minerals help convert food into energy for the body. These nutrients also build strong bones, fight infection, help with wound healing and keep nerves healthy.
Tip
Nutrients are absorbed in the mouth, stomach, small intestine and large intestine.
It Starts in the Mouth
The breakdown of foods begins in the mouth. Chewing starts the breakdown of foods. Salivary glands produce about 1.5 L per day of saliva, which contains an enzyme called amylase. Amylase begins the breakdown of starches, although the amount broken down is minimal, Escott-Stump says. Once food is chewed and swallowed, it travels to the stomach for further digestion.
Enzymes in the Stomach
In the stomach, enzymes break down food such as carbohydrates, protein and fats, so that nutrients can be absorbed farther down the GI tract, according to the National Digestive Disease Information Clearinghouse. The stomach mixes and churns foods to slowly release into the small intestine. Liquids empty the quickest, in one to two hours, and solid food takes about two to three hours to transit out of the stomach.
Small Intestine Absorption
The small intestine is the main area of the GI tract for absorption. The small intestine has three separate sections, the duodenum, jejunum and ileum. Most nutrient absorption takes place in the duodenum and jejunum. The duodenum absorbs carbohydrates, proteins, and minerals including calcium, magnesium, iron, chloride, sodium and zinc. Remaining starches in the form of glucose or proteins passed from the duodenum are absorbed in the jejunum in addition to vitamin C, thiamine, vitamin B-2 and B-6, and folic acid, Escott-Stump reports. The last section of the small intestine known as the ileum absorbs amino acids, fat, cholesterol and fat-soluble vitamins like vitamins A, D, E and K.
Nutrients in the Large Intestine
The large intestine is composed of the cecum, colon, finger-shaped pouch called the appendix and the rectum. Most nutrients have been absorbed once the food reaches the large intestines and what remains are mostly waste products. The colon is responsible for absorbing the remaining water, sodium and potassium. Fiber is a carbohydrate not digestible through the GI tract, so when fiber reaches the large intestine it adds bulk to your stool.