A herniated disc can be so painful that it makes everyday tasks feel daunting. It may even cause you to give up your cardiovascular exercise routine, but a sedentary lifestyle can actually worsen your pain. Instead, ask your doctor about the right exercises for your condition and focus on steadily building sufficient strength to exercise regularly.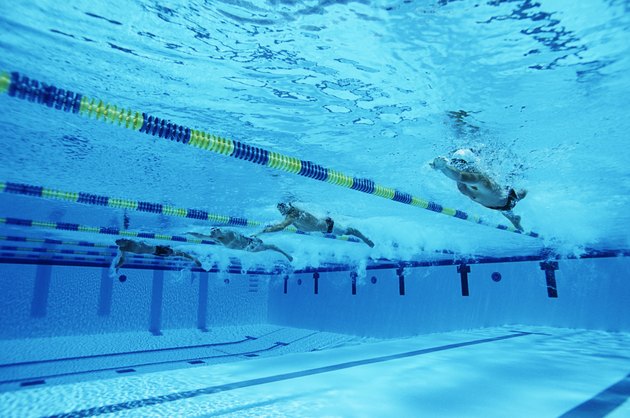 Understanding Herniated Discs
There's a dense, fibrous disc of tissue between each vertebrae in your spine, and these discs provide cushioning and support. A variety of injuries can cause them to bulge and swell, leading to pain in your back and decreased cushioning between your vertebrae. High-impact exercise routines can place pressure on your spine, irritating a herniated disc, but low-impact exercise can help you regain mobility in your back and may even be a part of your physical therapy routine.
Low-Impact Cardiovascular Exercise
Low-impact cardiovascular exercise can strengthen your back muscles. Regular cardio also helps to reduce the risk of chronic ailments such as osteoporosis and arthritis, and can help alleviate muscle pain and tension. Try swimming, which cushions your joints and helps you avoid forceful impact to your spine. Walking is another good choice, along with cycling and low-impact aerobics classes.
Exercises to Avoid
Exercises with repetitive, forceful impacts can worsen your condition, potentially causing further injury. Steer clear of running, particularly on hard surfaces. Jumping rope and jumping on a trampoline can also negatively affect your herniated disc. With your doctor's permission, you may be able to work up to these routines, but you'll likely have to do lower-impact exercises first and may have to undergo treatment or participate in physical therapy.
Rehabilitative Exercises
In addition to your cardio exercise routine, targeted spine exercises can strengthen the muscles of your back, reducing pain. Exercises that extend your back without forcing your back to bear excess weight are excellent choices. Yoga poses such as cat pose, bow pose and fish pose, can give your back the stretch it needs. Next, stand up with your spine straight. With your hands on your hips, slowly arch your back, bending slightly backward. Hold for one to two seconds, then lie on your back, legs straight, and slowly lift your torso off the ground, avoiding any stretch that causes pain or pressure in your back.