The Vanilla Bean Creme Frappuccino is different from most Starbucks' beverages in that it doesn't contain coffee. The Starbucks' Frappuccino beverage category is generally described as an iced coffee drink. But the vanilla bean blend contains only milk, vanilla bean and ice. The nutrition facts for this sweet blended drink will change some depending on how you have your drink made.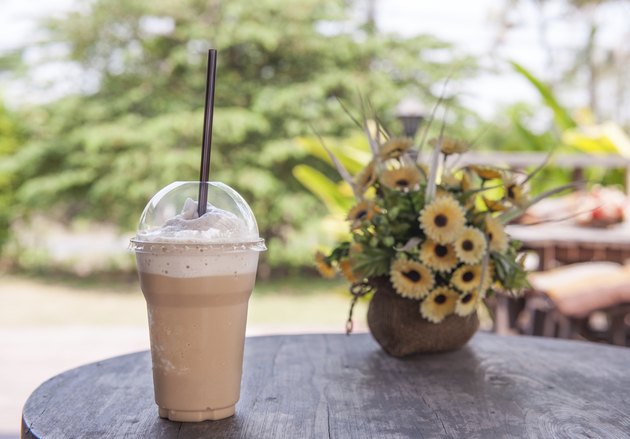 History
The Frappuccino is a registered trademark of Starbucks. According to "USA Today," when Starbucks purchased The Coffee Connection in 1994, this small coffee chain sold a drink that was part frappe and part cappuccino and called it a Frappuccino. Starbucks changed the recipe, but kept the name.
The Frappuccino Beverage
A Frappuccino is a blended beverage containing ice, dairy and a flavoring. Many of the Frappuccino drinks contain coffee as the flavor; however, Starbucks has expanded its noncoffee selection. Besides Vanilla Bean, other Frappuccinos that don't contain coffee include Pumpkin Spice, Strawberries and Crème, Tazo Chai Crème and Tazo Green Tea Crème.
The Ingredients
A Vanilla Bean Frappuccino contains vanilla bean, milk and ice. You can also top it with whipped cream. A 12-oz. Vanilla Bean Frappuccino with whole milk and whipped cream contains 280 calories. It has 12 g total fat, 7 g of that being saturated fats. There are 41 total carbohydrates with 41 of these being sugars. The Vanilla Bean also contains 4 g of protein.
Considerations
The nutritional information of your Vanilla Bean Frappuccino will change based on how you customize it. Besides whole milk, you can choose nonfat milk, 2-percent milk or soy milk. A 12 oz. Vanilla Bean with 2-percent milk contains 270 calories, 10 g of fat and 42 carbohydrates. The sugars and protein are the same as the whole-milk version. Choosing soy will not change the calories or fat content from the 2-percent version. However, the soy drink contains 43 g carbohydrates and only 3 g of protein. If you choose nonfat milk, your total calorie consumption will be 250 with 8 g of fat, 42 carbohydrates and 4 g of protein. Leaving off the whipped cream from any Vanilla Bean Frappuccino will subtract 80 calories, 8 g of fat and two sugars.
Size
The Vanilla Bean Frappuccino comes in three sizes. The nutritional information listed above is for the smallest size, the 12 oz. tall. If you order the 16 oz. grande or the 24 oz. venti iced, this will increase the total calories, fat and carbohydrates considerably. Starbucks lists the nutritional information for every Vanilla Bean option on its website, which is listed in the Resources section.