The Weight Watchers program builds upon the premise that every member has options. You can enjoy restaurants like Olive Garden and stay within the point values when you make healthy choices. Taking the time to plan before going into Olive Garden makes it easier to make wise choices and stay on the plan without feeling deprived.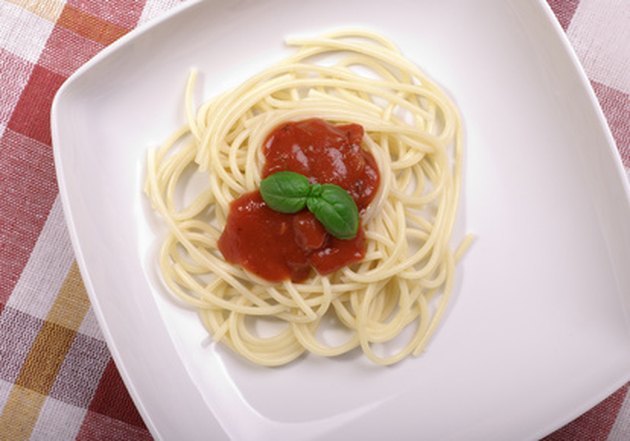 Low Point Entrees
Olive Garden restaurants have Garden Fare menu options that are lower in fat and calories. The menu highlights these options by placing an olive branch next to the selection. Low Weight Watchers point-value meals include Mussels di Napoli, Venetian Apricot Chicken and Linguine alla Marinara. Mussels di Napoli contains 180 calories, 8 g of fat and no fiber for a point value of 5. The Venetian Apricot Chicken dinner contains 380 calories, 4 g of fat and 8 g of fiber for a point value of 8. Linguine alla Marinara dinner contains 430 calories, 6 g of fat and 9 g of fiber for a point value of 9.
High Point Entrees
Many of the classic pasta dishes at Olive Garden are high in fat and calories, resulting in a high Weight Watchers point value. Dishes to steer clear of include Fettuccine Alfredo, Five Cheese Ziti al Forno, Lasagna Rollata al Forno, Spaghetti and Meatballs and Tour of Italy. These dishes range in Weight Watcher points from 26 for the Spaghetti and Meatballs up to 35 for the Tour of Italy. One plate of these menu options contain close to the maximum amount of calories and fat for an entire day.
Sides
Olive Garden has side options included with every meal. The Weight Watchers point value in these options is high when you do not control the amount consumed. One breadstick with garlic butter has a point value of 3, while a single serving of the garden salad with dressing has a point value of 9. A healthier Weight Watchers point option is the garden salad with no dressing for 3 points and a bowl of minestrone soup for 2 points. Ask for your salad with the dressing on the side and dip your fork into the dressing instead of pouring it onto the salad. Olive Garden does not provide nutritional data for its house Italian salad dressing.
Considerations
It is possible to lower the Weight Watchers points consumed at Olive Garden by asking for a take-home container when the entree arrives at your table. This allows you to cut the entree in half and pack it away so you consume half the number of Weight Watchers points for the meal. The lunch portions of each dish are slightly smaller than the dinner portions. The Weight Watchers point value for lunch portions decreases by 1 to 2 points depending on the menu option.
Warnings
Weight Watcher members who eat at Olive Garden on a regular basis will benefit purchasing the Weight Watchers Dining Out Companion book to help determine healthy options at the restaurant. Most restaurants will give you the full nutritional data for the menu upon request. Keep in mind menu options made with oil or cream sauce are high in Weight Watcher points. Marinara sauce options light on meat and cheese are good options for lower points.