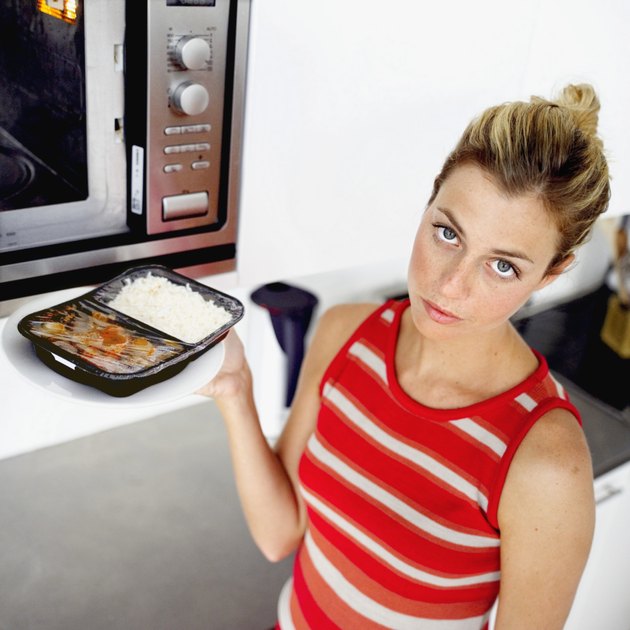 According to the Centers for Disease Control and Prevention, 68 percent of adult Americans over the age of 20 are either obese or overweight. The majority of Americans need to lose weight but struggle with how to do it. The desire is for simple, nutritional and satisfying diet plans that fit into fast-paced lifestyles without being overly expensive. Weight Watchers may offer a viable solution: Smart Ones frozen dinners.
Benefits
A frozen dinner diet offers simple preparation. Not only will you spend less time in the kitchen, but the meals are already planned, which reduces the amount of time needed to organize menus and shop for food. Also, Weight Watchers brings many options into the world of frozen meals with Smart Ones, giving variety to dieters. Multiple options are available for breakfast, lunch, dinner, snacks and desserts, keeping diverse options available and avoiding boredom. Another positive aspect to these meals is their portion control. Even if this eating plan is only used short-term, it is a useful diet tool to eat frozen dinners long enough to become re-accustomed to the correct size of a meal. Some dieters even re-use the plastic containers as serving dishes for home-cooked meals to keep portions under control.
Breakfast Options
Breakfast comes early and most people are in a rush. Weight Watchers offers handy options that can travel with you. Smart Ones Breakfast Quesadillas and English Muffin Sandwiches are two that can hit the road conveniently. Both meals total under 250 calories and offer more than 12g of protein, which means they will keep you feeling full longer, according to the Harvard School of Public Health. If you have time to eat your meal with a fork, Weight Watchers has additional options to choose from, such as Smart Ones Ham and Cheese Scramble with 210 calories and a reasonable 9g of fat.
Lunch and Dinner Options
Weight Watchers lists more than 50 Smart Ones entrees with a maximum of 390 calories. Entrees range from the standard classic Salisbury Steak served with macaroni and cheese to the Bistro Selections' Dragon Shrimp Lo Mein. Even Weight Watchers Artisan Creations Pepperoni Pizza stays under the 400-calorie mark, making calorie counting simple.
Snacks and Desserts
Any realistic meal plan includes snacks and desserts. Weight Watchers Smart Ones frozen meals offer both. As for snacks, one example is Weight Watchers Smart Ones Anytime Selections Chicken Ranchero Smart Mini Wraps. For 220 calories, 6g of fat, and a hefty 7g of dietary fiber, this may be a satisfying snack option. There are also mini cheese burgers, pizzas, and quesadillas with similar low-calorie nutritional facts. The dessert products offered appear far too tempting to be 200 calories or less, but they are. From Smart Ones chocolate eclairs to key lime pies, there is something appealing to any sweet tooth.
Problems
Eating solely Weight Watchers frozen meals will not provide the minimum five servings of fruits and vegetables that are recommended for a healthy diet by the Harvard School of Public Health. Supplement breakfast with a piece of fruit. Snack between breakfast and lunch with another piece of fruit. Add cut-up vegetables and low-fat ranch dressing to your lunch. And add a salad to your dinner. These additions will also help with the problem that such a low-calorie diet will not keep dieters feeling full all day long. Adding extra fruit and vegetables will increase the calorie count from around 1200 calories to a more sustainable 1400 calories per day. However, even a 1400-calorie-per-day allotment may not be enough for some people, depending on age, weight and activity level. Speak with your doctor to figure your daily caloric needs. Additionally, sodium counts may be high in some of these meals. Sodium should not exceed 2,300 mg a day, so that would need to be taken into consideration when planning daily menus.
Warning
With any new diet or exercise program, consult your physician before you begin.