If you drink and are trying to lose weight or decrease your body fat percentage, you may benefit from reducing your intake of alcohol or avoiding alcohol altogether. In addition to contributing extra calories to your diet and possibly changing what and how much you eat, alcohol interferes with normal metabolic pathways including fat burn, which can lead to fat accumulation in your body.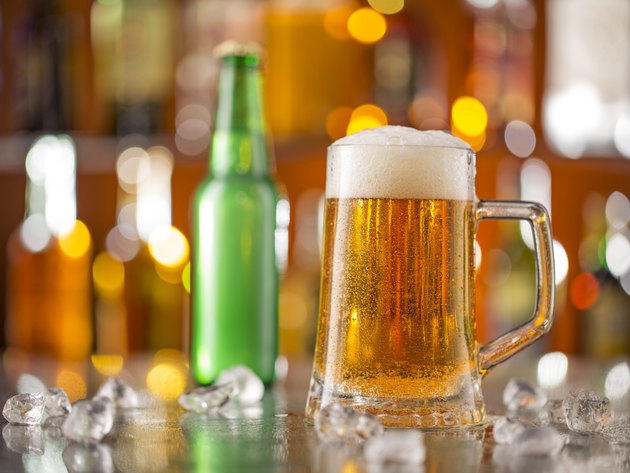 Alcohol -- The Preferred Fuel Over Fat
Weight loss does not come easily for most people -- you must burn more calories than you take in, and it is a lot easier for most people to consume calories than it is to burn them. Alcohol provides 7 calories per gram, while protein and carbohydrate both provide only 4 calories per gram. Although alcohol provides fewer calories per gram than fat -- fat provides 9 -- alcohol is your body's preferred fuel source, which means you must burn off all your alcohol calories before you start burning calories from the food you eat, thus inhibiting your fat burn.
Metabolism and Mechanics of Fat Burn
Alcohol's ability to inhibit your fat burn is by way of two mechanisms in your body, both which involve the creation of an excess of NADH, a compound produced from alcohol. NADH can be used to make new fatty acids and glycerol, a simple sugar, or it can enter the electron transport chain, where it is used as energy, displacing fat metabolism and directly blocking the normal fat-burning process in your body. This blockage can result in a fatty liver, fat buildup in the blood and an increased risk for a heart attack.
It's Simple -- More Calories, Less Fat Burn
In addition to alcohol displacing your fat burn, it also contributes a significant amount to your daily caloric intake. A 12-ounce beer or wine cooler, 5-ounce wine and 1.25-ounce distilled spirit, cordial or liqueur all contain roughly 14 grams of alcohol. One light beer, one serving of dry wine or one shot of a distilled 80-proof spirit provides you with about 100 calories. There are extra calories in regular beer, wine coolers and cordials or liqueurs due to extra carbohydrate content in these drinks. Per serving, regular beer provides around 150 calories, wine coolers around 180 calories and cordials or liqueurs around 160 calories. You would need to burn an extra 200 calories just from drinking two 5-ounce glasses of wine with your dinner.
The Appetite and Craving Connection
Alcohol may increase your food-related reward -- your feeling of satisfaction after eating. It may also increase your appetite and your cravings for high-fat or high-calorie foods. Researchers of a study published in 2006 in "Physiology and Behavior" found that when 12 men each drank 32 grams of alcohol before lunch, they consumed more daily calories and ate more high-fat salty foods than when they drank a nonalcoholic lager or a lager containing only 8 grams of alcohol before lunch. Another study published in 2010 in "Appetite" involved women subjects who consumed either alcoholic or nonalcoholic drinks before lunch. Researchers found when women drank alcohol, they ate more high-calorie foods that day and reported having a larger appetite after they tasted food. An increased appetite leading to an increased intake of calories, especially from fat, can indirectly decrease your fat burn.