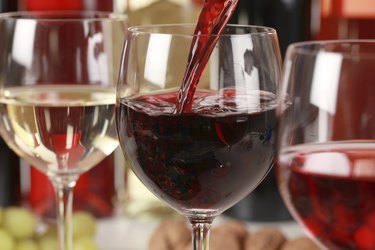 Flavonoids, or antioxidant-like plant substances, in red wine may reduce mucus and phlegm associated with several conditions. Red wine contains an abundance of the flavonoid resveratrol, which is produced by the reaction of plants to stress. Flavonoids are found mostly in fruits such as grapes -- from which red wine is derived -- apples and pears. The Linus Pauling Institute reports that in addition to their antioxidant properties, the flavonoids in red wine act as antiviral and anti-inflammatory agents, which suggests they may help fight some mucus-producing illnesses.
Common Cold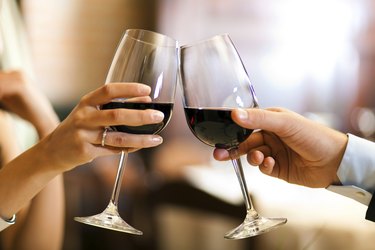 The common cold, or rhinovirus infection, is an upper-respiratory tract infection that can produce mucus, congestion and a runny nose. Infections result in inflammation -- the body's natural defense mechanism that destroys bacteria and viruses. Resveratrol, which is found in red wine, is believed to prevent two inflammation-producing molecules from being produced. They are sphingosine kinase and phospholipase D.
Acute and Chronic Sinusitis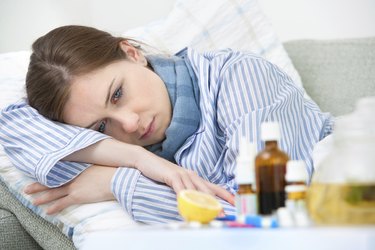 Symptoms such as inflammation, mucous build-up and discharge occurring in acute sinusitis and chronic sinusitis may benefit from the anti-inflammatory effects of red wine. Acute and chronic sinusitis have similar symptoms, which include a thick yellow or greenish discharge. Acute sinusitis is a brief infection usually resulting from a cold, but as in chronic sinusitis that lasts for 12 weeks or longer, it may also be caused by various infections.
Respiratory Disease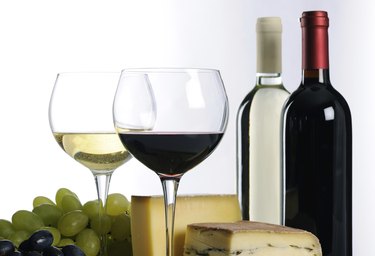 The flavonoids in red wine could possibly decrease the phlegm associated with respiratory diseases. Chronic respiratory diseases are a frequent cause of death and may be reduced by flavonoids according to a 2004 investigation published in the "American Journal of Respiratory and Critical Care Medicine." The investigative team determined that high levels of flavonoids in foods were associated with a decreased occurrence in cough and phlegm; they believe oxidants--free radicals produced by toxins--are responsible for the inflammation and tissue damage in chronic respiratory disease patients. The antioxidant and anti-inflammatory components of flavonoids may play a vital role in the prevention of chronic cough and phlegm. The April 2009 issue of "International Immunopharmacology" reports that red wine can even suppress mucous production and inflammation of bronchial airways in asthma>