Lipton is one of the most widely available and most recognized brands of tea on the market, and the manufacturer offers a variety of black, green and herbal teas. Lipton also makes specific iced tea blends and tea bags in a variety of flavors. None of the flavors supplies impressive amounts of any vitamins or minerals, though they do contain health-promoting compounds. Some varieties also contain added sugar. Getting the facts will help you decide if Lipton iced tea blends have a place in your healthy eating plan.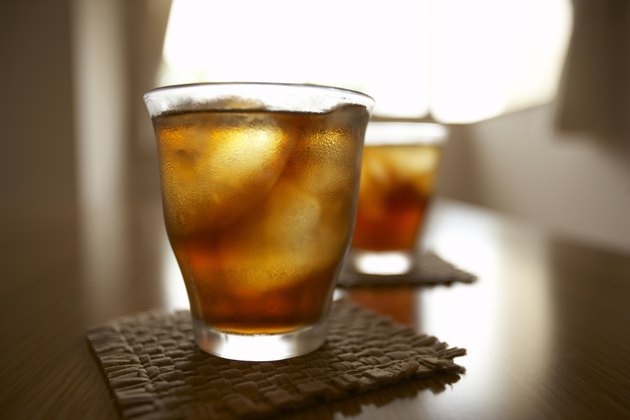 Bottled Iced Teas
Several flavors of bottled teas are sold under the Lipton brand, and the regular versions contain added sugar. The natural green tea with citrus, for example, contains 70 calories and 18 grams of sugar per 8-ounce serving. That translates to about 4.5 teaspoons of added sugar, but you could consume even more since most bottles of Lipton iced tea contain more than one serving. The American Heart Association recommends that women limit themselves to 6 teaspoons of sugar or less per day and that men take in 9 teaspoons or less each day. Eight ounces of either the white tea with raspberry or iced tea lemonade contains 50 calories and 13 grams of sugar. These teas supply trace amounts of potassium, as well, which is essential for a healthy heart.
Iced Tea Mixes
The Lipton unsweetened ice tea mix contains zero calories and no added sugar, making it a nutritious choice if you're watching your weight or trying to limit your intake of sugar. The lemon iced tea mix, on the other hand, contains 18 grams of added sugar per 1 1/3-tablespoon serving, and contains 70 calories, as well. The same amount of raspberry or mango iced tea mix contains 80 calories and 19 grams of added sugar. The diet versions don't contain any added sugar, but they do have artificial sweeteners, which, like sugar, don't supply valuable nutrients.
Iced Tea Bags
Tea bags themselves don't contain calories or sugar. Brewing a pot of iced tea with these specially formulated iced tea bags will also yield a calorie- and sugar-free beverage. This is a smart choice for keeping yourself hydrated without consuming a large amount of sugar. The tea bags also come in decaffeinated form if you're worried about your caffeine intake. If, however, you add other ingredients to your brewed tea, such as sugar, the nutritional value will change. Sugar adds calories to your beverage but doesn't add any key vitamins or minerals.
Factor In Flavonoids
Many Lipton iced tea bottles, mixes and tea bags contain flavonoids, which are beneficial compounds that might protect you from cancer, according to the MedlinePlus website. A 2013 article published in the "American Journal of Clinical Nutrition" reports that the flavonoids in tea might also protect you from heart disease. The unsweetened bottled teas and the tea bags are your best bet for consuming flavonoids without added sugar.