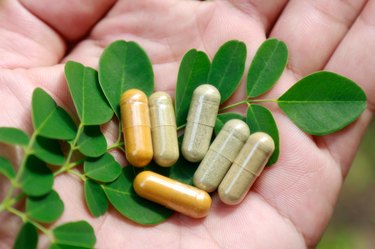 Olive leaf extract is touted as having many health benefits due to its antioxidant and anti-inflammatory properties. As such, it's become a bit of a buzzword in the wellness space.
But what is it, exactly, and does it really work?
What Is Olive Leaf Extract?
Olive leaf extract is made from the leaves of olive trees, says Daniel Boyer, MD, a practicing doctor of medicine with The Farr Institute. The leaves are dried into a powder, then packed into capsules, which are taken as dietary supplements.
It has been used in traditional medicine for many years. Its potential health benefits are attributed to a compound it contains called oleuropein, according to Memorial Sloan Kettering Cancer Center (MSKCC).
Does Olive Leaf Extract Really Work?
While Dr. Boyer cautions that research on the purported health benefits of olive leaf extract is "still inconclusive," many researchers "have concluded that its main ingredient, oleuropein, has anti-inflammatory, oxidative and microbial properties that give it therapeutic effects."
With that in mind, he says some of the benefits linked to olive leaf extract may include the following, although keep in mind that much more research needs to be done:
‌Blood pressure:‌ A March 2016 study in the ‌European Journal of Nutrition‌ found that men (that's the term used by the researchers) with hypertension noticed improvements in their blood pressure after taking the extract for a week.
‌Cancer development:‌ An August 2016 study in ‌Nutrients‌ suggests olive leaf polyphenols may reduce the risk of pancreatic cancer, prostate cancer, breast cancer, colorectal cancer and leukemia. However, MSKCC notes that olive leaf has not been shown conclusively to prevent or treat cancer in humans.
‌Cognitive disorders:‌ A February 2018 study in ‌Oxidative Medicine and Cellular Longevity‌ shows that oleuropein may reduce the oxidative stress caused by free radicals, thereby combating Alzheimer's and other types of brain damage.
‌Cold/flu viruses:‌ "Its antimicrobial property may prevent the development of cold and flu because of its ability to stop the flu virus from replicating," Dr. Boyer says.
‌Diabetes:‌ Some studies show olive leaf extract may "​​manage symptoms of diabetes because it prevents glucose build-up by enhancing the breakdown of starch into simple glucose," Dr. Boyer says.
Warning
Always talk to your doctor before adding any supplement to your diet. Olive leaf extract may come with side effects, and it might not be right for you based on your medications or medical history.
The Best Olive Leaf Extracts
This olive leaf extract is specifically meant for managing blood pressure, Dr. Boyer says. "Its main ingredient comes from olive leaves and is also enhanced by other ingredients like magnesium and celery that boast scientific backing in managing poor blood pressure."
It's tested by a third party for contamination. It's also dairy-free, soy-free, vegetarian and safe for anyone allergic to nuts or shellfish.
‌Buy it: ‌Amazon; ‌Price:‌ $21.20 for a 30-day supply
2. NOW Foods Olive Extract
Dr. Boyer recommends this product, which contains up to 6 percent oleuropein. It's also non-GMO, and the NOW brand follows the good manufacturing practices guidelines set by the Food & Drug Administration.
Users say it's been very helpful in fighting a cold in the winter.
‌Buy it:‌ Amazon; ‌Price:‌ $26.40 for a 4-month supply
3. Nature's Way Olive Leaf
This product "is manufactured through the assistance of advanced scientific processes, ensuring its potency," Dr. Boyer says. User reviews also indicate it has been helpful in fighting a cold in the winter.
It's non-GMO, third-party tested and vegan. Each serving (one capsule) contains 20 percent oleuropein.
‌Buy it: ‌Amazon; ‌Price:‌ $15.04 for a 30-day supply
What to Know Before You Try It
Dr. Boyer notes that there is currently no recommended dosage for olive leaf extract. However, "most of the scientific research done suggests that taking around 250 to 2,000 milligrams may lead to better cardiovascular health," he says.
Dr. Boyer also cautions that taking olive leaf extract can lead to side effects such as headaches and stomach pain "because most of these products get contaminated with impurities like heavy metals or other substances during processing."
He adds that "natural substances like olive leaf extract also have similar side effects to those of prescription drugs," so you should consult with your doctor before taking it.
The FDA does not approve supplements or vet them for safety and efficacy before they're sold, so it's always worthwhile to look for a supplement that has been tested by a third party such as Consumer Lab, NSF or USP.